The Rekindling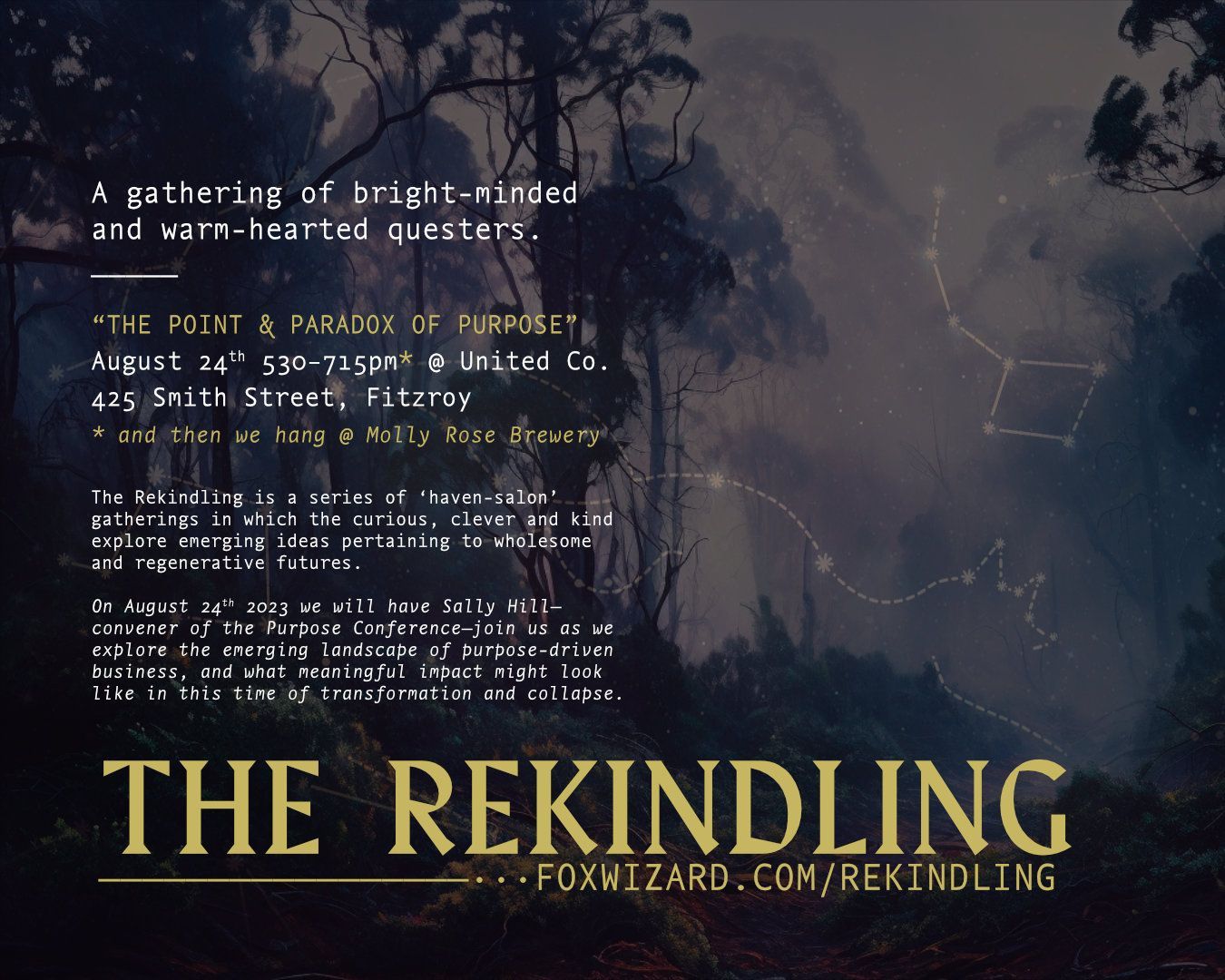 August 24th 2023 – "The Point & Paradox of Purpose"
5:30–7:15pm + 7:15pm–onwards · Thursday 24th of August
at United Co. (425 Smith Street, Fitzroy)
How might we lead meaningful impact with purpose? What is emerging in the landscape of ethical, regenerative and social impact businesses? What might it mean to 'transform capitalism' in a time of transformation and collapse?
These are just some of the questions we look forward to sharing with our special guest from Sydney: Sally Hill. Sally is the convener of the Purpose Conference, a purpose-driven business leader, and the general manager of Tripple—an angel impact investor. I've counted Sally a friend for many years, and I feel this will be a wonderfully warm and intimate opportunity to grapple with the topic of 'purpose' at some depth.
If you are enthusiastic to explore what might bring us closer to a world more curious and kind (and a future less grim), you would be welcome company. Bring a friend, if you like—and/or come make some.
Here's how it works:
This introvert-friendly evening event begins at 530pm at United Co. 425 Smith Street, Fitzroy. Here you make yourself comfortable and enjoy an intimate and explorative open conversation, warmly hosted by PK and myself.
Then—as one collective skulk—we stroll to a delightful local brewery nearby for the unfurling 'intellectual speakeasy salon hangs' until 'late'. This is really the wondrous part—relaxed generative dialogue at depth amongst a warm atmosphere of newfound friends. A highlight of any month.
Bookings essential.
This event is held upon the lands of the Wurundjeri people of the Kulin Nation, and graciously hosted by
Kearney Group
.
---