The Rekindling
A series of warm gatherings for the curious, courageous and kind.
Together we shall foray heartily into the uncharted and emergent—so as to obtain the freshest and most dubious fruits of 'wisdom' (for our combined edification and delight).
Less poetically: this is a gathering of bright-minded and warm-hearted folk keen to explore that which is emerging, with a bias towards wholesome and regenerative futures. Hosted in partnership with Kearney Group, each gathering begins with thoughtful provocations, and concludes with a shared sense of speakeasy 'scenius' at a local brewery.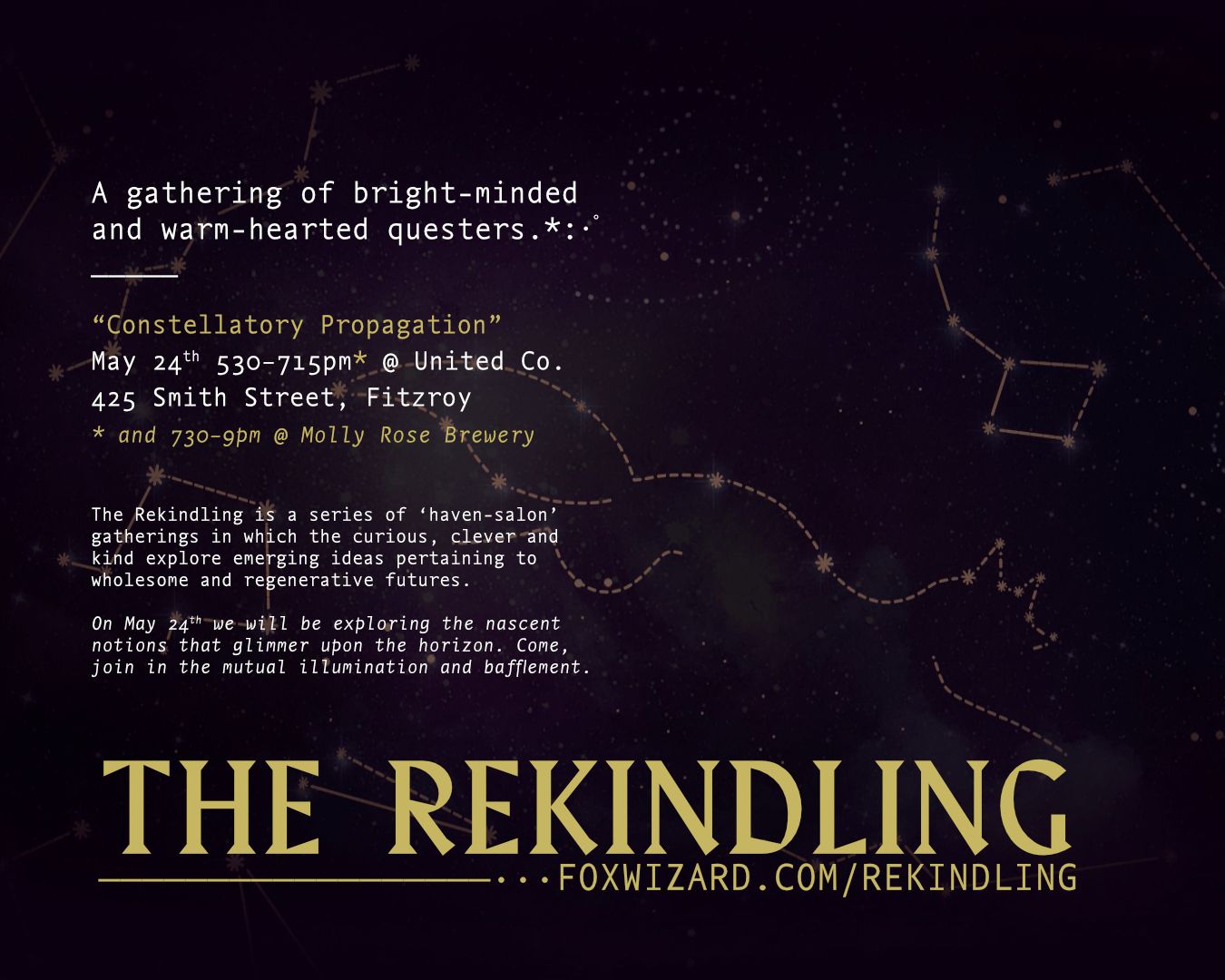 May 24th 2023 – "Constellatory Propagation"
Join us for an evening to explore, compare and conduce "what lies within our quiver of options".
What's in your 'quiver of options'? What beacons, weak signals and 'faint attractors' is your sextant affixed to? What glimmers in the 'constellation of visions' that guides you towards "meaningful progress"?
In this age of fabricated intelligence, predatory egregores and compelling distraction, it can be hard to discern relevance from mere salience. Yet if we are to surmount the hypnotising convenience of the defaults that bind us, we must break pattern—and enter a space of mutual curiosity. A space in which genuine imagination and creative discernment can flourish.
The Rekindling is an attempt at such. We seek to provide the conditions in which wondrous conversations may flourish. Conversations that pertain to a shared everquest to co-create a world more curious and kind, and to ensure that whatever path we take is as wholesome and regenerative as can be.
If you've ever found yourself running out of time to talk about 'the big stuff' or 'the subtle stuff' (and that which dwells within the penumbra)—this is the haven for you.
Here's how it works:
The wizards Dr Fox and Paul Kearney will cultivate thoughtful provocations from 5:30pm to 7:15pm on Wednesday 24th of May at 425 Smith Street, Fitzroy. Then—as one collective skulk—we stroll to a delightful local brewery nearby for the unfurling 'intellectual speakeasy salon hangs' until 'late'. This is really the wondrous part—relaxed generative dialogue at depth amongst a warm atmosphere of newfound friends. A highlight of any month.
Bookings essential.
This event is held upon the lands of the Wurundjeri people of the Kulin Nation, and graciously hosted by
Kearney Group
.
---