What the funk? [vintage]
And what to do.
Bah. I've been in a bit of a funk these past few weeks. It happens. It's crap, but also very, very good. I'm thinkin' of a master plan for how to get through it this time. Read on...
[vintage = an olde museletter, from a different time and place: some links may no longer work and some ideas may no longer be 'as true'—read at your own peril]
---
Ahum.
So I've been in a bit of a funk, recently.
Not quite the blues—and certainly not depression—but a kind of restless apathy. A strong feeling of discontent for I don't know what. A meandering, persistent (and yet not entirely consistent) melancholy that's at stark contrast to the many things to be grateful for.
I know this may come across as a bit of a downer—but that's certainly not my intention. Far from it! I'm glad for this dark storm. This is no cry for help, but rather: a natural part of constructive discontent.*
* The very thing that fuels all meaningful progress and growth.
I know that—on the other side of this—awaits renewed congruence. After all—creativity and destruction are two sides of the same coin. It's a paradox, and an early cue for some sort of change on the horizon.
And so! I'm writing this just in case you—or any folk you know— are passing through funk-town too.
Here's what I know I need to do
And yes, I'm presenting it as a listicle.*
* Though, to my credit, I didn't use a click-bait title like: "You Won't Believe These 5 Free Ways To Overcome Any Funk..."

1. Get philosophically reconciled.
At times like this I take great comfort in philosophy, and the renewed pursuit of knowing thyself. Alan Watt's The Wisdom of Insecurity, James Carse's Finite and Infinite Games, Alain de Botton's Consolations of Philosophy, and Oliver Burkeman's The Antidote: happiness for people who can't stand positive thinking (which draws from Seneca) are all good reference points (and are thus scattered about the house). I'm also thoroughly loving The Book of Life. If you haven't gotten into this yet—do so. It is a veritable omnibus of contemporary wisdom.°
* In Praise of Melancholy and How Thinking You're An Idiot Lends Confidence are two such delightful reads.

2. Dial up physical & social activity.
I'm doing okay with regards to physical activity* (thanks to the joys of cognitive dissonance and the sunk cost fallacy of having a PT). Nutrition-wise I'm also doing okay.°
* Which is lucky—physical activity is an extremely good buffer against the blues.
° Alas, it turns out that excessive coffee is inexorably linked to anxiety, so I'm trying to cap it to just one brilliant coffee each day. Okay two. Definitely no more than three.
But social activity is the thing that gets very counter-intuitive for me whence I'm in a funk. I'm not one to answer calls from friends at the best of times (well—I stare at the phone and then call back later when I have the energy). But, by the same token, I'm very lucky to have some mighty thoughtful friends and family. Folks who I can bounce with, and who can empathise—without the need to give sympathy or advice. And so, knowing my natural inclination leans toward solitude, I've gone and proactively planned some social activity in the calendar. I'm my own worst enemy—in the best possible way.
On the flip-side, I wonder if—for an extrovert—the default might be to constantly surround themselves with people. To not be alone with your thoughts. I don't know. But if you're that way inclined—and are passing through funk town too—it might be worth experimenting thus.

3. Reflect more, with gratitude.
During our Monday morning team meetings, we check in with each others' fulfilment factors. This is to buffer against burnout, and to ensure that we have each other's back—that we champion each other's fulfilment (both professionally and personally). Journalling is a ritual I value—but I'm currently out of rhythm with this. For the past few weeks I've been using various excuses—travel, work, and so on—and now it's catching up to me. But... it's not too hard to get back into flow.* As for gratitudes—I'm lucky in that the dangerlam and I both know just how important they are in counterbalancing constructive discontent, and the withering contempt in which we view most of our own work. In addition to reflecting with gratitude in my journalling, we have an annual calendar on the wall in our bedroom, to which we write down small things we're grateful for each day.° But I reckon I can do more, and I'm inspired to give Mykel Dixon's #5omeone project a go. Soon.
* A few minutes writing morning pages in my Day One Journal or Baron Fig notebook, as per The Artist's Way.◊
° Which is an exceptionally kind way to end the day.
◊ Which I have not done yet, but several folk have recommended I do.

4. Actually meditate.
I really enjoy Tim Ferris's podcast, wherein he interviews world-class performers from a range of eclectic areas. One of the most common characteristics amongst interviewees is a form of meditative practice. It's thoroughly annoying, because I'm not there yet myself. And I fancy myself as quite the progressive. And yet evidently not—it still seems counter-intuitive to me. 'There are better things I can do with my time' I think to myself. But then I'm reminded of the old Zen adage: 'You should sit in meditation for twenty minutes every day—unless you're too busy; then you should sit for an hour.' Bah! I have a long way to go. Or perhaps I don't. But here's what's working for me now (other than the very occasional whisky*): neighbourhood strolls, digital sunsets,° There Is No Right Way To Meditate (a delightful illustrated guide the dangerlam bought us), and buddhify (an integrated mindfulness and meditation app that works wonderfully for busy people like me).◊
* It's the gateway to mindfulness.
° Except for reading books on the Kindle.
◊ We're very excited to be hosting Rohan Gunatillake—creator of buddhify—at Percolate next week.

5. Quest.
When I am in a funk I am more allergic to advice than ever. As an over-thinker at the best of times, it's rare to hear advice that I haven't already thought of.* You offer someone insight, and then they leap to offer ridiculously simplistic and obvious advice—showcasing the all-of-three-seconds-of-thought they've devoted to it—in a way that you can't help but feel is lacking a certain empathy for the bigger complexity of things. Of course, this is not their intent—they just want to help—but I've come to learn that, when in a funk, I relish a different kind of help: questions.
* Or at least, that's the unhelpful delusion I hold.
Questions are quite the different thing. The premise of all quests. The provocations that beckon us beyond any settled apathy. Questions are gifts to be interpreted and explored through the lens of your own context. They're opportunities for you to invite new perspective into the mix. And, while others might share their own conclusions with you, when questing, the conclusions you come to are of your own.
And so, therein lies how I attempt to handle this temporary funk this time. And, if you're in a funk, hopefully some of these elements are useful to you too (though I daresay you may have already thought of them, ha).
Until next time (to which, I'm sure, at some point between now and then, I shall have my own archimedes moment equivalent, and the funk shall be dispelled for a while).
Hat tips,
jf
PS: Late last year, when Percolate was first conceived, I had begun to notice this pattern of mine, and I wondered if others might feel the same. A yearning to ask ourselves: what might be different about the new year ahead?
Percolate offers us a chance to disrupt ourselves out of familiar patterns and a default trajectory. Something that might serve as a precursor to meaningful progress. I had no idea just how much I'd need it this year.
And so, I cannot wait. This time next week…!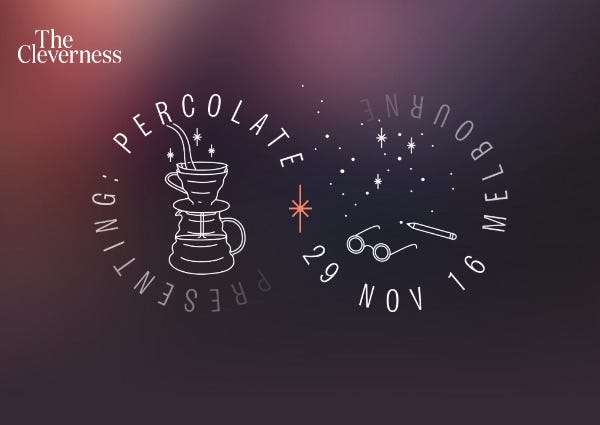 Brought to you in partnership with: Starward Whisky, Proud Mary Coffee and Kearney Group.
Want to join us?
We have a wonderful mix of people registered for this—many of whom bare majestic titles like Director, CEO, Chief, MD, Head of, Executive, etcetera. Pioneering folks from organisations like Telstra, Isentia, Red Cross, VicRoads, Commonwealth Bank, CHC, ThoughtWorks, The Hackett Group, University of Melbourne, MYOB, Energy Australia, Amgen, Royal Australian Air Force, Change2020, NBN, IAG, RMIT University, Tennis Australia, CSIRO, Woodside Energy, State Library of SA, GE Australia, Culture Amp, Pearson Education, Odecee, Thick, KPMG, (and more)...
At the time of writing, we have 14 tickets remaining.
Tuesday, November 29th, Melbourne.
Save $100 with the code: AWIZARDISNEVERLATE
Heads up: I updated the venue. The previous one felt too corporate. We're now meeting in a very funky warehouse space—222 Brunswick St, Fitzroy (Victoria). Look for the unicorn. Different place, same time. Come earlier and/or stay later—there are many hidden wonders amidst the nooks and alleys of Fitzroy* awaiting your discovery.
* My haven, which also happens to be the 3rd most hipster suburb in the world.
An experiment
For some time I've been meaning to experiment with the notion of asking interesting questions of pioneering folk whose perspective I admire.
Now, originally this museletter was going to be a reflective piece on Words. But then I got all dark and bitter and deleted it, thinking it all too unoriginal. I wish I hadn't, but nonetheless, here we are. You can read up my thoughts on the power of choosing One Word to serve as Contextual Beacon. I also made a short video of it while on holidays in Japan last year.
Anywho, last year I chose the word Pirate. It was ace.
This year, the thing I really needed to do was invest. Not just in terms of wealth, but in terms of health, development, growth, and so on. But invest is a rather boring and unforgettable Word, so I chose the archetypal word of Gentleman* (as they embody the essence of what this is about, and are often in vests). I developed three principles to guide my year: Quality in All Things, Humble Arrogance, and A Paragon of Aplomb.
* Or, more specifically—The Gentleman-Pirate.
I'll do more reflections post-funk (and I invite you to do the same), but given my interest in the whole invest side of things—particularly the financial elements thereof—I thought it would be mighty novel to interview someone who's a pioneer in this space. *woop*
A mini-interview with Paul Kearney
I'm very lucky to know Paul Kearney—the CEO of the award-winning Kearney Group Financial Services. Paul's philosophy and approach to business inspires me—and so I thought it might be nifty to share his perspective on things. Inspiration for the long game, imagineering, and creating futures for your best people.
Here are some of the highlights from the interview. "In my view, there's a BIG change still coming—and this time, it's not software."
...
"Knowing we have agency and the ability to design and constantly reinvent ourselves… that's powerful. It provides the oxygen needed to take important risks and really challenge ourselves. When you understand that opportunities to reinvent yourself and change direction are endless, it's easy to see that failure is not a permanent state nor does it define us. This knowledge lets us go a bit easier on ourselves when it happens (and it will happen)."
...
"It's also absolutely crucial that as leaders, we make succession possible and visible. Co-ownership or shareholder opportunities should be exclusive, yet attainable for the right people. The best amongst us know that retiring (or worse, dying) as 100% owner is a terrible waste—your legacy and your business' legacy is too important to fizzle after you're gone. The only way to ensure it doesn't is to flag talent early and get your people on board."
The financial services profession is in a global flux. For refreshing perspectives from one who is genuinely pioneering in this space, head over to the full interview.

Worthy Reads
Is Physical Law an Alien Intelligence?
Probably not—but nonetheless, a provocative line of thought.
An Expert at Not Being An Expert
Tim Urban is possibly one of my most favourite writers and thinkers in contemporary times, and here he is—interviewed by the incredibly useful Pocket. "I have no conviction about anything, since I'm not an expert—I draw my knowledge from what experts say."
NASA's Peer-Reviewed EM Drive Paper Has Finally Been Published
...and it shows that the 'impossible' propulsion system—a thing that defies Newton's third law—actually seems to work.
What's The Evidence on using Rational Argument to Change People's Minds?
Ah, so much brilliance in this article. Read this and sharpen your mind. Here's just one snippet—"Not only can the arguments you advance come back to bite you, but they might even lead you to conclusions you didn't expect when you first formulated them."
The Art of the Awkward 1:1
I'm a big fan of the awkward. It unleashes the human, and unearths the authentic. We incorporate this approach with our quarterly Reflections & Projections.
Crony Beliefs
"From the inside, via introspection, each of us feels that our beliefs are pretty damn sensible. Sure we might harbor a bit of doubt here and there. But for the most part, we imagine we have a firm grip on reality; we don't lie awake at night fearing that we're massively deluded." Kevin Simler writes. "But when we consider the beliefs of other people? It's an epistemic shit show out there."
Protect Your Library The Medieval Way
With delicious curses.
---
"The presence of those seeking the truth is infinitely to be preferred to the presence of those who think they've found it."
—Terry Pratchett

Hat tips to your magnificence.
^______^