The New Unkindness Worked (mostly)
In this museletter: how to cultivate a personal brand & and be comfortable speaking to an audience
What-ho, friends! Thank you to everyone who reported back on the efficacy of my new flock of ravens (the Unkindness). It seems my museletters are getting to most of you.*
* Though a fair portion remain unaccounted for. If you enjoy these, maybe you can check in on your fellow bright-minded friends and colleagues to see if they too are (still) subscribed? Warmly appreciated, thank you. Of course, if you are reading this because it was forwarded to you, you can subscribe to The Museletter here (for free).
In other news, the mystical Coterie of The Fox is growing in members now.* My recent supporter-only post featured a 5,000 word think-aloud draft developmental-calibration-framework for motivation (far too dangerous and borderline-Machiavellian to share with you here). This sparked apt and insightful commentary from several of the Coterie. You can become a supporter and join us behind the scenes too, if you like.
* If you had trouble joining it might be a browser issue. Trying a different browser or joining via your phone seems to work well.
---
Today, in this Museletter, I share with you:
My thoughts and tentative advice on personal branding

How to be comfortable speaking in front of an audience (+ podcast)
But first…

The Character Building Masterclass
Happening this November 25th amidst the hallowed ruins of The Abbotsford Convent in Melbourne.
Tickets are selling like pikelets—more than half of our tickets have now been claimed. We have a goodly mix of solo, pairs, and small teams coming along. I genuinely believe this could be one of the most profound personal development and well-being investments you can make (for yourself, your team and those close to you) before the year end. An opportunity to refine and reshape 'who you are' in the year ahead.
Below, my earnest hand-made video for the masterclass.
I'd love to see you there. Join us at the special October rate.

Thoughts & Tentative Advice on Personal Branding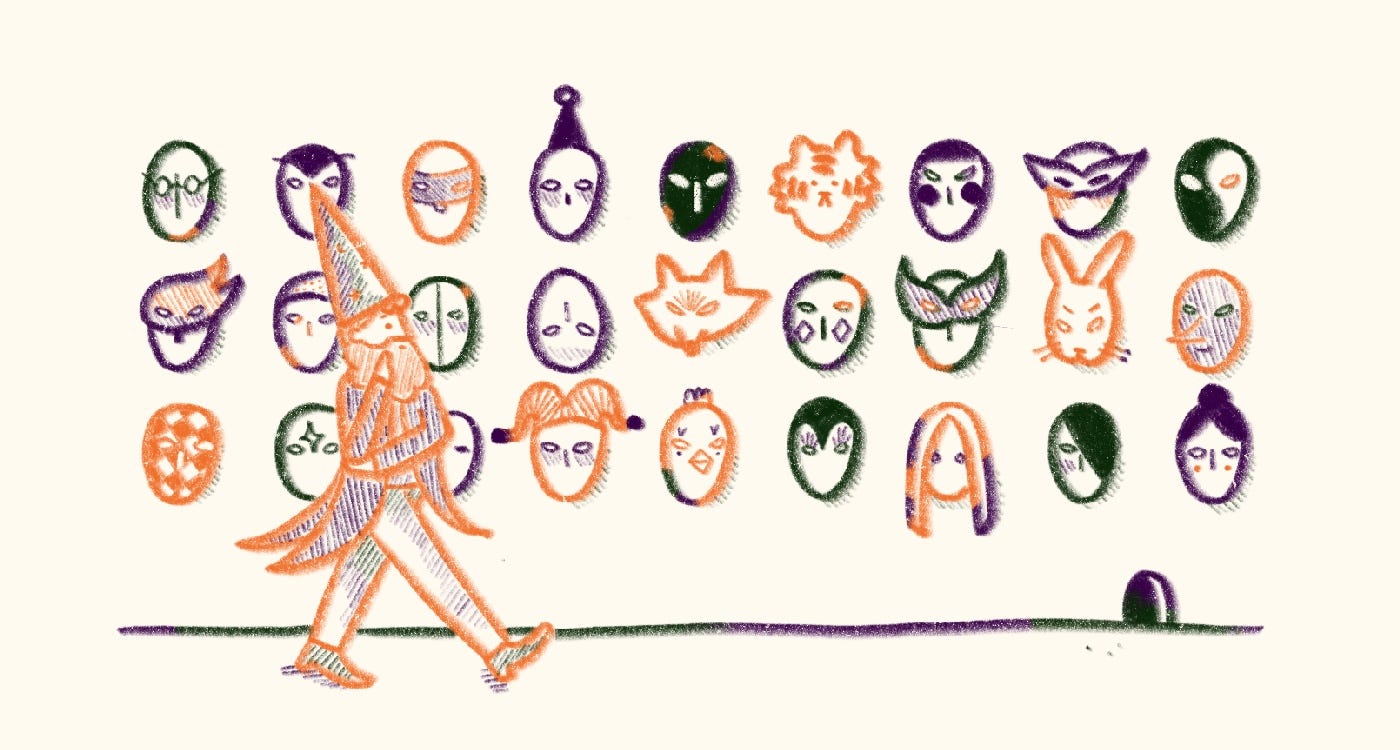 A friend of mine recently asked me a couple of questions about branding.
(Yes, for some reason I have been on Twitter. I find all social media platforms somewhat repugnant these days—but many folk I deeply respect and admire are on Twitter. Much as I wish to remain in my Dark Forest, it is necessary that I occasionally frolic in the open.)
Anyhoo, it really got me thinking. I get asked these kinds of question often, but I have never really taken the time to reflect and write about it. I don't feel as though I have any 'secret' to offer you—but I am going to take this opportunity to reflect and share my thoughts with you here. I had originally thought to do this as another twitter thread (much like I did for the question of 'how to be comfortable speaking in front of an audience', below)—but I am prone to Overthinking Everything™️ and have been told that, apparently, my 75-tweet thread was 'epic'. The Daily Talk Show even teased me about it.
And so, for my sins you must suffer my thoughts in the form of the following short essay on personal branding. Enjoy!
Life is performative
It used to be that it was safe to experiment and play with 'who we are' online (through personal blogs, roleplaying games and internet forums—back when the internet was young and benign, and we were all hopeful and naïve). The 'real world' was where it mattered.
Nowadays, it's all reversed—the 'real world' is where we experiment; the internet is where it matters. And the internet is far from safe.
Or well, that's not quite true, either. But we are getting closer.
It all matters; and everything is a mess. For most of us, the internet now represents the domain of the more 'performative' aspect of our selves (our 'personas'). And the real world is where we can afford to be a bit more uncertain; a bit more draft and a bit less preened.
Again though; this still isn't quite accurate—but it speaks to this messy, entangled new world world we participate in. Hence The Dark Forest theory of the internet, which I keep returning to, and keep loving.* There are quiet havens within the world that we can retreat to. This is where we get to be who we are outside of our performative roles. The same person, yes—but; not quite.
* Coterie members: I wrote about this earlier, which you can access in 'How to Unlock The Next Chapter of Your Life' (an article nestled within a museletter from earlier this year).
Anyhoo; it's quite difficult to talk of personal branding without talking of 'selfness'—the mercurial sense of 'who' we perceive ourselves to be—but I'll try keep practical, and succinct.
We only exist in relation to others
Modernity emphasised individualism—the notion that we are distinct, special, unique and seperate indivisible entities, operating as free-willed agents. Social media has further amplified this notion.
But it is more accurate to say that we are co-created dividuals. Our multitudinous and nebulous-but-patterned 'sense of selfness' is not indivisible. We are more of an unfurling phenomena than a fixed entity; emergent order from complexity and chaos well beyond our ability to comprehend.
To quote James Carse*—author of Finite and Infinite Games:
"No one can play a game alone. One cannot be human by oneself. There is no selfhood where there is no community. We do not relate to others as the persons we are; we are who we are in relating to others

Simultaneously the others with whom we are in relation are themselves in relation. We cannot relate to anyone who is not also relating to us. Our social existence has, therefore, an inescapably fluid character. This is not to say that we live in a fluid context, but that our lives are themselves fluid. As in the Zen image we are not the stones over which the stream of the world flows; we are the stream itself. As we shall see, this ceaseless change does not mean discontinuity; rather change is itself the very basis of our continuity as persons."

---

* For can I write a museletter without quoting the chap? Probably not. And I may redouble my efforts to promote Carse's work now that everyone's favourite modernist Simon Sinek has released his new book 'The Infinite Game'. (Which, so far, reads as a well-intended and accessible but diluted, warped and reduced appropriation of James Carse's sublime philosophical treatise. I appreciate that the concept will reach more folks; I mourn the loss of richness, subtlety and nuance. More on this another time, perhaps.)
We are 'characters' in the narratives of others
Just as they are in ours. Even if we adopt a non-narrative approach to life, we still build a sense of 'who' fellow persons are by synthesising our experience of them (what they say and are observed to do) with what they themselves and others say of them (their mythos)—all to the backdrop of societal norms; which are then filtered through our own distorted ontological lens, etcetera etcetera.
And, just so, they build a sense of who we are by how we show up in the world.
In this way, we co-create each other. If the character I show up in your world is distinct, it is only because of what I have experienced and assimilated in my own development. Namely: reading a lot fantasy, science fiction, psychology and philosophy books. But also: all the people I've met and interacted with, the things I've done, blah blah bleh. You get the idea.*
* This is also why it is so important to consider how you are informing yourself. Just as a chef selects quality ingredients for a dish, you too ought consider (critically) the quality, variety and source of the information that helps inform who you are.
This is why the notion of 'personal branding' is such a misnomer.
The etymology of branding
The term 'brand' derives from the Old Norse word brandr or 'to burn'. Its what slavers would do to their 'stock'—using a hot iron to burn their brand-mark onto the living flesh of their 'property'. This, in turn, made ownership easier to recognise in the market. Why anyone would want to do this to themselves (personal branding) is beyond me—but, to be fair, the etymology of branding has changed through the years.
In time, brand-marks were also applied to objects as means of marking ownership. In the early 1800's brands then became more about signalling quality in products. People began to place 'trust' in brands.
Then, in the late 1800's the notion of 'Trade Marks' became a thing. This allowed companies (intersubjective entities) to be differentiated via their logos and names.
The 1900's then saw branding emphasise differentiation—how a particular 'brand' was distinct from (or better than) other brands within the same category. In the TV era, emotional messaging (narrative/myth-making) was used by big brands to augment their advertising and 'win' market share. The late 90's saw the focus double-down on the 'personalities' of companies.
Then the internet came of age.
I'll skip over much of the nuances and cut to the chase: folks began to care less about the polished brand narrative, and more about the price and customer experience of brands. Thanks to the democratisation of knowledge (before fake news and algorithmic filtering became as much of a thing as it is now), trust in big monolithic brands began to erode.
With the rise of 'web 2.0', 'brands' (now a synonym for company) attempted to 'make emotional connections with customers' via social media. But it became clear: people connect better with people, not companies. Thus some companies began to invest in the personal brands of (key) people.
Meanwhile, it became increasingly easier to start a personal blog or build a website. This meant that any individual could likewise invest time in the development of their own brand—which, back then, was naively thought to be about authenticity. And it was, in a way, thanks to independent blogs and websites.
But now, as folks become increasingly enmeshed within the dominant social networks, branding seems to be 'any activity that gains and retains followers'. I'm being a tad snide here, apologies, but it does seem to hearken back to 'marking yourself for the market'. Personal branding ourselves with a hot iron—only now the hot iron is a platform riddled with dark patterns, designed to magnetise and monetise your attention and profit from the culture wars that keep us divided.*
* LinkedIn offers a different kind of bad—there's much less 'culture warfare' here, and much more virtue signalling as everyone capers to to the tune of whatever business narratives are more likely to get you better work (which has most folks conforming to fit in with the Accepted Business Narrative of our times).
At the meta, this is how social media is fuelling neo-tribalism and the atomisation of society. This great fragmentation (and its associated balkanisation) might be inevitable—but there's a way we can rise above this mess.
Personal branding in 2020
Emma Magenta sums it up well.
Let's come back to some of the nuances in Steve's questions.
One was slightly about 'brand' (How do you develop & maintain a brand that resonates but still reflects your personality/quirks?) and the other was more about the 'professional self' (What are your 'tips' for building a magical, alluring, yet still authentic version of your professional self?).
These questions of resonance, personality, quirk, magic, allure and authenticity are linked to how we relate to our work. Of how we show up in the narratives of others.
To me, these are questions of character—in the deepest and broadest sense of the word.*
* Interestingly, here's the origin of the term—it parallels 'brand', though in a much heartier and healthier way (a stamp rather than a hot iron). Origin: Middle English; from Old French caractere, via Latin from Greek kharaktēr 'a stamping tool'. From the early sense 'distinctive mark' arose 'token, feature, or trait' (early 16th century), and from this 'a description, especially of a person's qualities', giving rise to 'distinguishing qualities'. (Source: Oxford Dictionary).
Aristotle thought of 'character' as 'that which reveals moral purpose, exposing the class of things a [wo]man chooses and avoids'. If we all make choices…
Our choices make us
And choosing to not choose is still a choice.
Given the state our world is in now—and as we hurtle toward further ecological devastation and flirt closer to societal collapse—it no longer makes sense to play the role of the 'innocent bystander'. For any of us. The timing of this question Steve asked me—combined with the opportunity to introspect and reflect—has got me further thinking: well, what the heck am I doing? What future am I contributing to? What am I doing for the lives of fellow sentient beings, eh?
And this is what I suspect personal branding will come to mean in the coming years. What are you about? What do you stand for, and—importantly—what are you willing to compromise or sacrifice for this?
I do a bit—in the hopes of creating a world more curious and kind—but I daresay: I can do so much more. Or rather, it's not so much about 'more' but 'better' (given what I know now).
A new chapter beckons
The good thing is: we are constantly offered the opportunity to grow, adjust, evolve and improve. We needn't become imprisoned by our past, or whatever mask we've made for ourselves.
Let's loop back to another word in Steve's question: 'version'.
If seeing yourself as a multitudinous-and-nebulous-but-intermittently-continuous-unfurling-concept/process is a bit much (it is for me), then it might help to consider that there are versions of your self. Just like software.
Sometimes we live and operate within an outdated version of self. This version of 'selfness'—you Operating System* (ontology)—may therefore require updating.° 'Who we are' doesn't make sense with 'where we are' in life (or what we sense is emerging). The question then becomes: 'so who might we need to be?'
* I am not really a fan of such analogies but they provide such utility.
° This isn't a necessarily easy or nice process, which is why so many of us avoid it. It is also very dangerous, too. Abstract concepts—even rational sounding ones like 'Operating System'—can usher in unhelpful levels of 'magical thinking' (not the good sort), creating dependencies on defunct modes or ways of being in our postindustrial society.
This is a practice that is refined by ritual of Choosing One Word each year. Ideally, this is an archetype* to serve as a guiding beacon and reference point for the things we choose and avoid. It is something I shall be unpacking at depth in my upcoming Character Building Masterclass.°
* An archetype is a patterned form of meaning, and thus serve as symbolic motifs of more complex traits and roles.
° I should add: it's more about cultivating character, rather than 'building' it. I just like the fact that 'Character Building' is thought of as any personal happening that is so absolutely awful, embarrassing, or painful that, in order to make one feel better about it, its very existence must be given some sort of arbitrary purpose—such as 'building character'.
But, to provide some immediate insight for the many who won't be able to make it to this enchanted event, I offer the following.

3 'tips' for cultivating character
Okay—semantics aside*—to cultivate a magical, alluring, yet still authentic version of your self, perhaps do these three things.
* Hoho you know I am joking right? It is impossible to put meaning aside, and this whole thing is very much about how we make and interpret meaning.



1. Conjure a 'mythic' version of you
An exaggerated or idealised version of who you are.* Imagine: if you were to appear as a distinct character in a book, a movie or a game—what would you be? To find this, you might need to Find Your Arch-Nemesis and undergo the process via negativa.
You may also want to find a constellation of neighbouring archetypes to draw insight from. Ask yourself: what patterns (traits) does this version display? What principles might they maintain? What projects might they embark upon? In essence, we ask: how might this version 'show up' in the world (and in the narratives of others)? And how is can this be a new chapter in our own unfurling narrative (fallacy)?
* Something that is, ideally, revised and updated each year (and; situationally, as needed).



2. Cast a longer shadow
The trouble with most 'branding' efforts is that they only emphasise strengths (not weaknesses—nor the weakness of strength). But distinct characters are flawed— that's what gives them character.
So, ask yourself, for each strength you want to embody—what 'weaknesses' or 'flaws' are you willing to accept? And how might these be re-spun into a more endearing form? The stronger the strength, the longer the shadow.*
* A strength that does not cast a shadow is not distinct—it doesn't stand out.



3. Ask: 'What would a [insert archetype] do?'
By having 'a mythic version of you' (along with principles, patterns, projects and potentiality) as a reference point (something I encompass in the form of Choosing One Word each year*) you can then—in any moment—ask what this version of you might do.
* I ought note: we integrate and assimilate previous archetypes/Words into our evolving character. Thusly, these are not masks to adopt and discard year on year but rather: new facets of self to explore and enrich.
And so, wizard-fool that I am, I can't help but write in this manner for you.* It's distinct, yes, but it also costs me the folks who hunt for quick/easy fixes—and the folk who are more inclined to prune their vocabulary than expand it°—thus confining me into the realms of esoterica and obscurity. But I don't mind.
* It also influences the aesthetic and tone I deploy, the fonts I gravitate to, the work I choose to do (and choose not to do)—and myriad other things. Not all the time, of course. But when I am unsure as to how to best approach something, the archetypal character serves as a reference point. Life is also much more fun this way.
° And you see that there? That subtle note of arrogance? That's a legacy of the year of Gentleman-Pirate.
The deliberate and intentional (reflective and introspective) integration of mythic 'versions of self'—encourages a fluidity in character that is paradoxically coherent and distinct. There's much more to this*—of course—but hopefully this serves as a primer, for now.
* Investigating the conflict of values and hidden commitments you might have (much as described in the book Immunity to Change) is an important part of this process.

What a great question! Thank you to all who asked. For those who want to explore further: come along to The Character Building Masterclass (and keep in touch here).

How to be comfortable speaking in front of an audience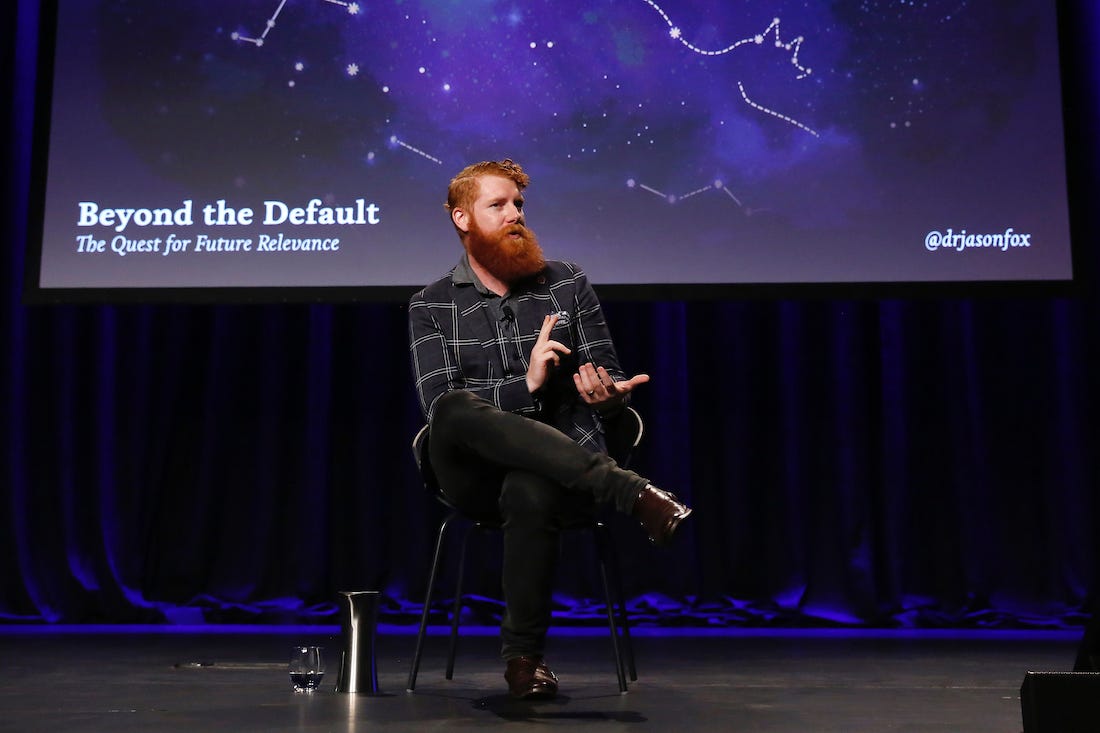 This is another question I'm asked often. I recently put together a 75-tweet thread and then recorded a podcast episode on how I—famously introverted wizard that I am—get comfortable speaking in front of audiences.
If you are also inclined towards introversion, or if the thought of speaking to an audience makes you feel uncomfortable, then I think you may benefit from this post.
Here's the original tweet for the thread—
—but you can read it on my blog, and listen to it on iTunes or Spotify.
If you have joined The Mystical Coterie of The Fox you can read the full thread and ask further questions of me here.

Whew. Thank you for joining me once again.*:・゚✧
If you know of anyone who might enjoy this, please share. And if someone shared this with you, you can subscribe for free here (or become a supporter and join The Mystical Coterie of The Fox for a small donation). ❦