The New Museletter of Dr Fox
Everything is changing, and staying the same.
Oh good, you found it! I was worried my ravens might accidentally deliver this straight to your spam folder, never to be seen. I'm mighty glad it got to you okay.*
* And if it was in spam, maybe mark it as 'not-spam'.
You probably got the other museletter I sent? Good.
Well, here we are—<flings back drape>—The New Museletter.
Today we cover the following.
Why change?

The Mystical Coterie of The Fox

Navigating Complexity Like An Artist—a conversation with Sarah Firth

An early invite to The Character Building Masterclass

Some Worthy Reads
Righto, on with the fizzle.
Oh PS: I'm new to this particular platform of incantation. You know how it is. Thusly: if you have any issues or quirks with this new format please let me know. Thank you!

Why change?
Well, as you know: only that which can change can continue. This is the principle by which infinite players live.*
* (To quote James Carse).
Several factors conspired to catalyse this change. I share the following with you because I personally would be interested in the 'behind-the-scenes thinking' of folk. It might be helpful for you to.
Over time, the scope and complexity creep of these museletters had become unwieldy—for me, and for even the most avid readers.

Mailchimp—the platform I had used for many years—used to be cool. But they too seem to have suffered from scope and complexity creep—along with a bit of brand and value dilution. Again, this can happen to the best of us. It kinda reminds me of what Scott Belsky observed half a decade ago in a tweet:

Also: 'success' is fragile. Back in the early days—when my list was small—I could get away with stuff, like some cavalier knight errant. But as I accrue more subscribers, I now have more to lose. I thus need to be more 'conservative' and 'careful' in my approach. OR DO I? ಠ_ಠ
Hoho! Do you see the parallel here? This is exactly what happens to many businesses, organisations and teams as they 'mature' in success—and this is the exact same phenomena I write and warn about.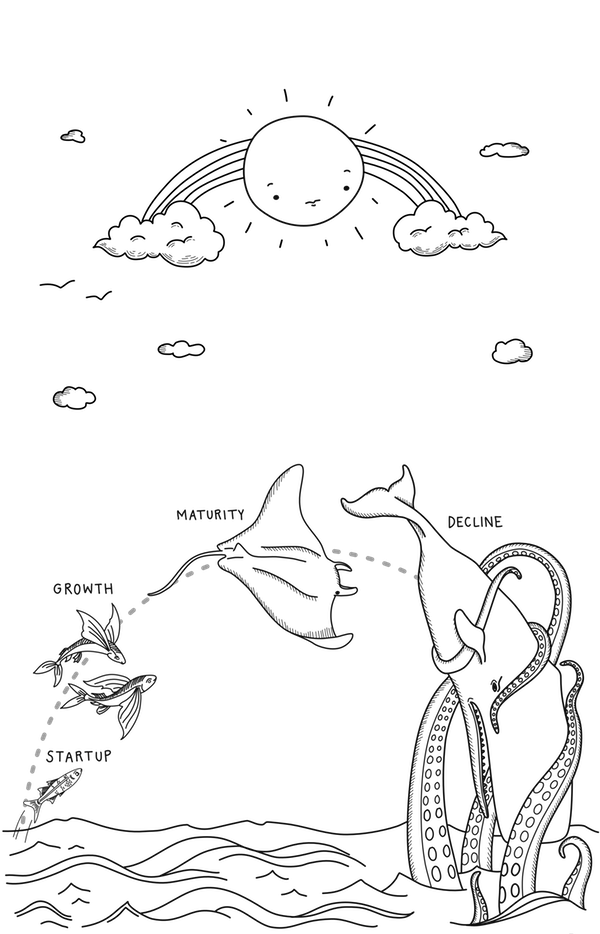 The Default Arc of Enterprise Growth (from How to Lead a Quest). Illustration by dangerlam.
Default patterns of thinking have a habit of getting in the way of meaningful progress. It feels like things are working (kinda), because we are doing what worked for us in the past. There's a track record and so ergo: we're on track. We just need to 'work harder', 'optimise' or find 'new efficiencies'. Or so we tell ourselves. In time, we lose that 'founder's spirit' and busily—productively—work our way into decline (which, inevitably, leads us into the clammy embrace of The Inevitable Kraken of Doom™️ which feeds upon the sweet nectar of our impending irrelevance).
Yeah; let's not let that happen. The antidote? Deep curiosity and empathy for what the current and emerging needs in the world are, combined with worthy Quests to find 'viable alternative options' to the (dysfunctional) default.
This new museletter is the alternative option. The ripest and most tempting fruit plucked from what has been a medium-length quest. Fingers crossed it's viable but: we shall see. This 'new' museletter comes with a renewed (fluid) intent—ahem:
This is a museletter for independent thinkers who find themselves in positions of leadership and/or influence. It benefits those seeking the wit and ways to better navigate complexity and change (transformation), so as to be a more effective imposters within the mythical 'future of leadership'. Thusly, this museletter serves you as a precursor to wisdom. (You can learn more about it here).
The main things that have changed are:
you'll hear from me a tad more frequently than six times a year;

my musings will be a little bit more accessible, practical and succinct;* and

in parallel, I offer an open invitation to become a supporter and join The Coterie of The Fox (see below).
* Hoho: don't believe me!

Introducing:
The Mystical Coterie of The Fox

A little while back, I proposed that my museletter was my 'Dark Forest'. But I don't think this is actually the case (though it may be for my podcast). A dark forest of the internet could be considered a place where depressurised conversation is possible because of their non-indexed, non-optimised, and non-gamified environments.* This museletter is more of a one-way thing.° I research, think, brood, agitate, angst, synthesise, distil, write, edit, doubt, re-think, re-write, doubt, delete 80%, re-write, edit and then send these musings to you. It's a 'conversation' in an abstract sense, but not in a conventional sense.
* As from The Dark Forest Theory of The Internet by Yancey Strickler.
° Though many of you write back with nice things but I have such an apprehensive relationship with my own inbox that I never get back to many of you, and it kills me.
Also: people sign up to the museletter to benefit from the best of Dr Fox, Arch-Wizard of Ambiguity—not necessarily the thinking in draft espoused by this tepid Jason character. There's a mythos to Dr Fox that needs to be maintained,* and my proclivity for authenticity/transparency is probably something best kept amongst friends behind closed doors. Or, maybe not—but it is something that will better serve this way.
* Time for a Dune quote (via Frank Herbert—polished up for the new millennia). "Greatness is a transitory experience. It is never consistent. It depends in part upon the myth-making imagination of humankind. The person who experiences greatness must have a feeling for the myth [s]he is in. [S]he must reflect what is projected upon [them]. And [s]he must have a strong sense of the sardonic. This is what uncouples [them] from belief in [their] own pretensions. The sardonic is all that permits [them] to move within [themselves]. Without this quality, even occasional greatness will destroy a [person]."
Hence, I present to you: The Coterie of The Fox.
The Coterie is my new dark forest; a quiet haven, to which you are most welcome company. Much like a coffeehouse, speakeasy or saloon, the Coterie is curiosity and camaraderie gathered around thinking-in-draft.* Together we explore the emerging new challenges of 'quest-leadership'°—personally and professionally. I also share with you the various nuanced/practical heuristics I hold in 'the business of change' as an independent wizard-for-hire.
* All are welcome—just leave your conviction at the door.
° My very nebulous term to describe 'the pursuit of emerging relevance, beyond the default'. Stuff that has us working in uncharted territory, beyond the edge of knowledge.
You can stay signed up to this Museletter for free—forever—and that'd be wondrous. You'll still receive exquisite musings, provocations, invitations and worthy reads, all neat and fab.
But if you work in the paradoxically lonely-ish fields of leadership and change—either within an organisation (as an executive, intrapreneur or sleeper agent) or externally (as an independent consultant or 'public intellectual')—you can support my work and join The Coterie of The Fox by becoming a donating subscriber.
Doing so grants you:
My deepest appreciation and warmest regard—useless as currency but nice;

A key to my library—giving you full access to the archive of previous museletters and posts (including vintage);

Supporter-only posts—in addition to the fortnightly museletter all free sign ups receive, you'll also get fortnightly behind-the-scenes insight into 'the business of change' (awkward/insightful/practical), among Other Things;

Your very own (metaphorical) wizard pipe—giving you the ability to pontificate with fellow bright minds, at the edge of knowledge (you can comment on posts and participate in subscriber-only conversation threads);

First (and sometimes exclusive) invites to events, dinners and so forth—you'll hear about it in the coterie before it is mentioned anywhere else;

Private podcasts—raw, honest, unpolished and unedited attempts to answer your questions, along with explanations of new models and heuristics; and

(What I imagine might be) Good company—my work tends to attract clever folk full of heart, wisdom and wit (wizards, mages, rogues, jesters, enchanters, illusionists, consultants, speakers, facilitators, leaders, writers, artists, druids, engineers, poets, bards, doppelgängers, spell-thieves, supervillains, coaches, philosophers, tricksters, and so on).
Right now, in addition to the full archive, the Coterie has subscriber-only posts on:
You can comment on all posts, ask questions and participate in conversation within the coterie. In this way, it's like a shared horizontal mentory haven thingy.
You can learn more about the ethos and intent of the new Museletter and Coterie here. If it resonates with you, I hope to see you on the other side.

New podcast episode up on The Cleverness with Dr Jason Fox:
Navigating Complexity like an Artist
Listen on the web, iTunes or Spotify
I recently had an exquisite conversation with my friend Sarah Firth (an award-winning comic artist, graphic recorder, writer and animator based in Melbourne).
I was particularly excited to chat with Sarah, as she has one of the most richly complex minds I know of. She is one of the few folk I know who (literally) makes art of complexity. See look: here's a sample chapter from her graphic novel Making Sense of Complexity. Sarah has a swag of books she has authored, created and contributed to. This year saw the release of Badass Mums and Drawing Power (an empowering anthology we talk about in the episode).
What I loved about this chat—in addition to sharing a rich conversation about the navigation of complexity, social media, social anxiety and more—is the sheer honesty of it. Sarah approached this with genuine curiosity and openness, and I never felt as though we became stuck in some pre-ordained narrative (a habit I can fall into). So! I hope you enjoy. Here's to those with the patience/courage/tenacity to persist in the generative ambiguity of complexity. The world (our society) needs more of this right now.

By (relatively) popular demand, I present to you:—
The Character Building Masterclass *:・゚✧
Cultivate new motivation, meaning and myth—a 'leadership development' masterclass coming to you this November. Tickets and details available here.
I've been looking forward to this one. Ahem: I want to help you develop character (in yourself, and others). And by 'character' I am referring to how you show up in your own unfurling story—and in the stories of others. This relates to the quality of your reputation, your mythos and ethos, and the distinctiveness of your persona.
This masterclass could be loosely considered as something hidden amongst a constellation of leadership development, 'self' development, 'personal branding',* 'thought leadership' and 'influence'.°
* I don't believe in personal 'branding' btw. But it may serve as a proxy for something more dynamic and fluid.
° Influence is best built indirectly—it oughtn't be the primary goal. Rather, it is something we awkwardly accrue as a result of garnering the trust and respect of others.
This masterclass will equip you with the wit and wisdom to find your own way to your own style of charisma, leadership and enchantment. It's happening on Monday 25th of November 2019 amidst the hallowed ruins of The Abbotsford Convent in Melbourne. Tickets are at a special rate for October*, and are especially good value for those who want to bring a friend.
* The fee will increase come November. Also: my events typically sell out, so best tally ho.
Hope to see you there!

Worthy Reads (& listens)
Some grist for your unfurling synthesis.
That'll do for now. Thanks for joining me. ◕‿◕

"Thinking you know a thing is a sure way to blind yourself. Cultivate a sense of both, sophistication and naïveté about all things." via DuneQuoteBot