Hoho: metamodern "thought leader"
Also: Spicy Questions for flavoursome panels.
What-ho and hello,
This is The Museletter of Dr Fox, and I have three things to share with you today.

Tomorrow (Wednesday) morning at 10am Melbourne-time (gmt +10)—which is like: 'today' (Tuesday) at 8:00pm Toronto-time—I shall be joining Peter Limberg in The Stoa to discuss How to be a "Metamodern Thought Leader" wtf. Registration is free, and I would love to have you join us—details here.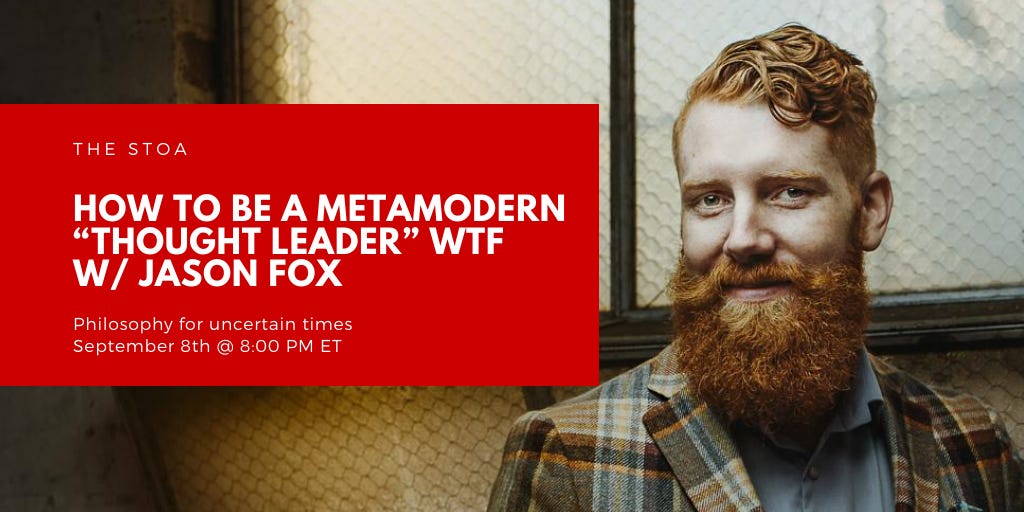 Learn how to cultivate and perpetrate a mythos that allows you smuggle philosophical sensibilities into the heart of Enterprise Land—without losing yourself in the process. Further: learn how to resist the echo-chamber of narcissism, and the myriad sirens that might lead you astray.
As a primer for those who might attend, I found this excerpt from this letter.wiki exchange between David Chapman (of meaningness) and John Vervaeke (of Awakening from the Meaning Crisis) to be very apt. These are David's words here:
The modern public intellectual makes rational arguments for one system over another; or, within a tacitly assumed system of construal, argues that policy A is rationally preferable to policy B. This can be hugely valuable, but it is increasingly impotent, due to postmodern incredulity toward meta-narratives.

The postmodern public intellectual points out that the pretensions of modern systems to absolute truth and foundational justification are hollow. No ultimate ground for meaning is possible, due to the nebulosity of relevance. This valid correction has gradually filtered down to the least-informed, so we live in a "post-truth era".

The metamodern public intellectual explains how meaning arises, why some things are more true than others, and whereby some groundless systems work surprisingly well. Those systems now need emergency maintenance, though, requiring collective meta-systematic work. The metamodern public intellectual inspires and provides tools for that task.
This talk of being a 'public intellectual' is much more noble than the naff-mercenary qualities that a self-proclaimed 'thought leaders' have now come to represent. Yet nonetheless I would love to help fellow complexity practitioners and philosopher-poets to be more effective in this arena. Register here.

I recently helped a client facilitate a global offsite that brought together leaders from all regions and timezones. One of the key context to any such virtual gatherings in "These Times" is that there is a lot of ambiguity and doubt at play, along with a pervasive sense of isolation and disconnect. Simply providing polished, pithy and professional presentations is not going to cut it—but rallying together to share in genuine, live and meaningful relating will. And part of this means ensuring that the panel sessions with key leaders are interactive, honest, memorable and engaging.
I've found myself encouraging 'Spicy Questions' as a means to bring flavour, depth and warmth to the panel discussions I cook up with my clients. Because otherwise:
Most panel discussions are a recipe for underwhelming success

At least: in this is the case in Enterprise Land. Panels have long been synonymous with placid, polite and platitudinous performances, whereupon everyone says all 'the right things' and agrees with each other emphatically—usually having known the questions in advance, along with who's going to say what (so as to avoid overlap of any 'clashes'). Then, after a solid 43 minutes of this tiresome team tirade, the facilitator will open to Q&A for the remaining 2 minutes. This will usually begin one of three planted questions; a predictably safe and trite question that is mildly flattering of the panel, allowing them to stage a chuckle before ending on some pithy purpose piece.

This was the case before covid-19—and may continue to be the case in most such virtual events. Unless: we spice it up. ⟣ Read the full article.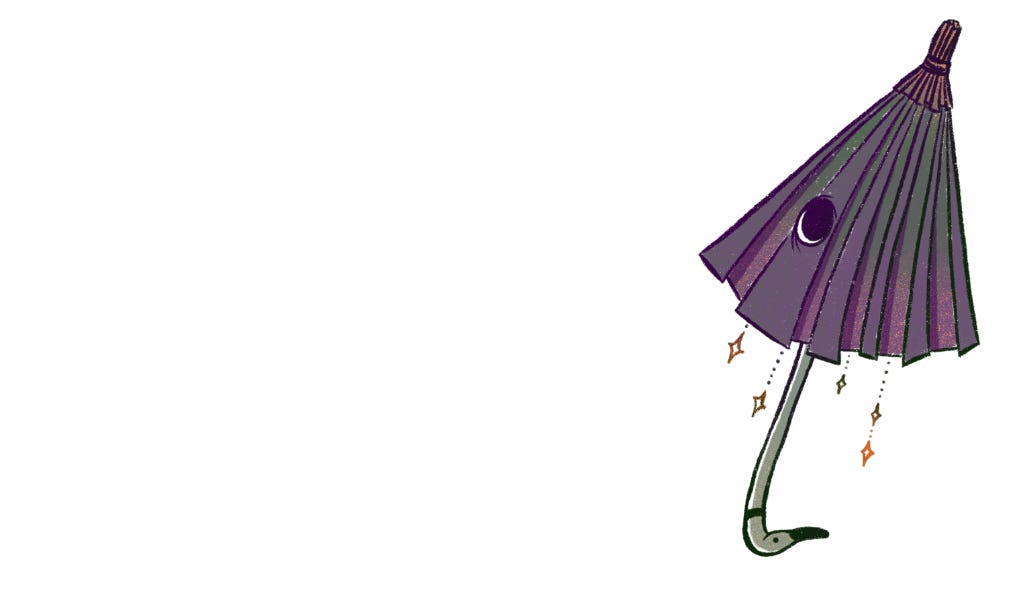 Enchant Your Bio 🃏
On Wednesday 16th September 8–930pm AEST (gmt +10) I will be hosting a virtual workshop on something that could be considered as 'personal myth-making'. Here I will guide you through the makings of your own mythology, via the (re-)authoring of your own 'bio'—that paragraph or two that describes who you are and what you do.
Your bio plays an important part in seeding the 'story-of-you' in our collective noösphere. This mythopoetic artefact informs the impressions evoked in others, and shapes who you might yet come to be.
It can be hellishly difficult to write a bio on one's own: and so hence we shall do it together. Come ready and willing to recast yourself in a new light. Tickets here.

Okay, that's all this week. I am trying to keep these epistle's relatively 'short' for you these days. Feel free to ask questions or add comments.
Warmth,
~jf