Authenticity; don't bother.
Also: Letters & Words (with friends).
Happy February!
Hoho just kidding. Or is it? Hard to say. If you squint askance at These Dark Times—arms akimbo, head atilt—you might just find cause for delight. Especially if you are cultivating some sort of wholesomeness in your local area (connecting with your local community and ecology, IRL). At least, that's one of the many things I am learning from Jenny O'dell's How To Do Nothing: Resisting the Attention Economy (a brilliant book that hits on some vital sensibilities for all of us to (re)kindle).
February, so: this is the month in which all of your grand intentions (if you had any) are put to the test. Here, many of us find ourselves returning to the familiar rhythms and contexts of work.
And here we ask ourselves: what might be different this year, this orbit?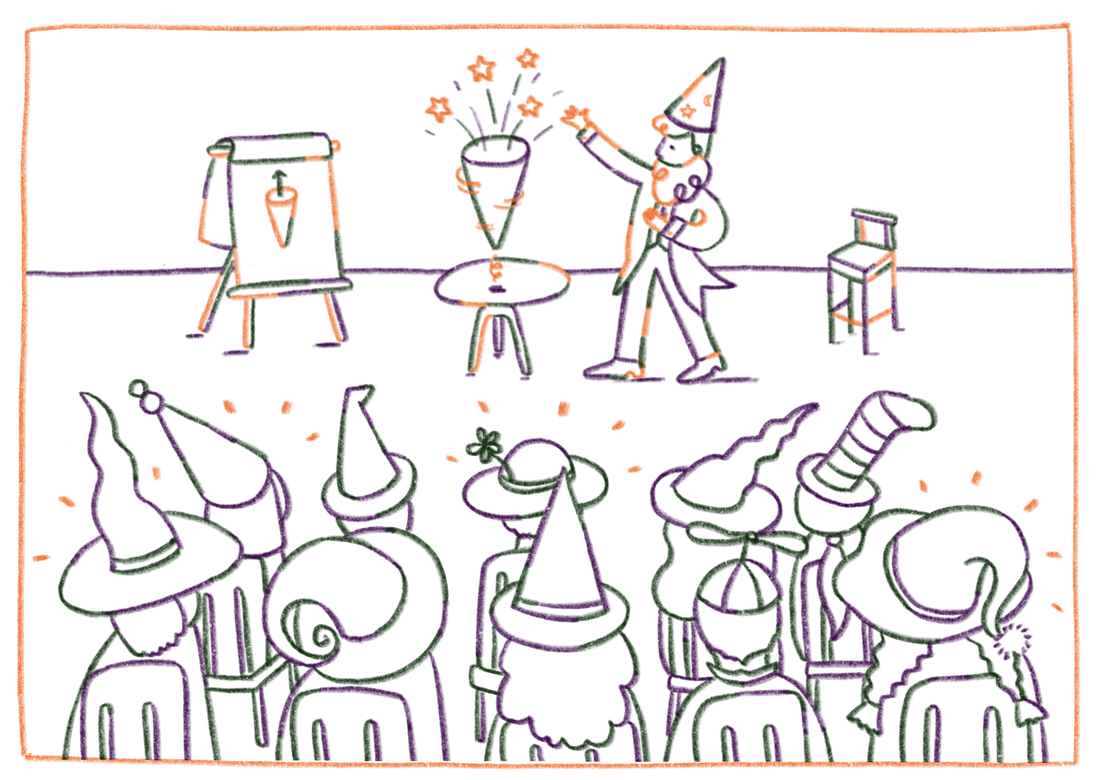 Quick update: I quietly updated my website at the end of last year as part of a side-quest to make my meta-wizardly services—thoughtful provocations, in-house masterclasses, leadership development—ever-so-slightly easier to understand and buy. Is it working? 😅

This particular February is a leap year.* So: this one is pretty special, eh? Perhaps this time around (the sun), we mightn't go about things so meekly? Perhaps this time—in this wondrous unfurling narrative of ours—we might bring about the kinds of change we have been yearning for? Or not. There's so much beyond our control. (Perhaps everything.) And yet still, it's nice to think we might be able to nudge things along a little. To find and lean into the attractors, and that which may serve our song.
* My fellow accomplice Dr Time has chosen 'Leap' as his Word for the year. It's very apt.
As part of my own reflections—and in the ongoing learnings of this Year of the Bard—I have been introspecting upon the Patterns of Behaviour I tend to fall into. It's endlessly fascinating. Actually, it was about this time 10 years ago that I was in the midst of my doctoral thesis in motivation and behaviour. How naïve I was, so full of hubris. Still am, no doubt.* I've come to understand that 'motivation' is itself a bit of a dud placeholder, and a gateway to all sorts of magical thinking.° And 'behaviour science' sounds more solid (because: Science!), but still succumbs to the same fallacies that wither under extended rational scrutiny.◊
* Hoho, I jest: I am full of doubt now. I love it, and I wish more had it. (But in the useful/generative sense—it's the same tension that fuels curiosity).
° Like: you just need to embrace an 'Infinite Mindset'. (Actually: I'd be fine with this if we simply abolish the word 'mindset' altogether. The mind does not 'set' like concrete—and I hope we would never want it to. I suggest we might instead opt for the word 'disposition'.)
◊ I recently shared a Private Podcast and Deep Rant with supporter-members of The Coterie of the Fox on the distinctions between complicated and complex systems. I thought it was too spicy to share publicly, but it will no doubt become a flavour in future posts.
Thus I am less interested in identifying 'specific behaviours' or 'hacks' to integrate into a system of habits, and more interested in understanding the mercurial Principles and heuristics that situationally guide our decisions we make and the actions we take. This is something I teach in the Ritual of Becoming—but there's only so much perspective one can glean on one's own.
Hence, I have turned to writing a letter. Or well, two letters thus far.
And maybe this could be something for you to consider, too?
Why send a Letter?
Letter.wiki is a relatively new platform that offers the opportunity for conversation in good faith at depth with another mind. If social media is the loud and bustling town square, Letter is the much quieter coffeehouse wherein you can actually hear each other (without being interrupted or intruded upon).
I have very much enjoyed following this exchange on The Meaning Crisis, and this exchange on Truth and Rationality. I also very much resonate with the 'mission' driving Letter:
"Letter is a platform for thoughtful conversation.

Since the advent of the internet, humanity has never been more connected, and yet we remain divided on many of the issues that will shape our future.

We believe that thoughtful, good faith dialogue is how ideas develop, spread, and take effect—our mission is to advance the quality and impact of conversation."
The simple guiding principles are also appreciated:
"We ask that participants make a sincere effort to be fair, open, and honest. This means assuming good intentions of those you're in dialogue with, rigorously seeking clarity before reaching conclusions about their positions, and being open to changing one's mind in light of good evidence."
Oh how the world would be if more of us adopted this kind of disposition. Especially towards those who don't seem to share the same views or values as we do.
Whilst the Trickster in me avoids unproductive conflicts and zero-sum games (I don't play to win), the selfish Fox in me still seeks ways to better navigate/skulk this world. Thus I have written a couple of letters—one to an old friend, and one to a new one—as potential grist for my own character development.
You can follow our conversations here if you like.
Neither have replied yet, but I live in hope.
Perhaps you'd like to write
me
a letter?
For some time I have dabbled with 'Ask Me Anything'-style questions (as witnessed in the early days of my now semi-mothballed podcast, and also in my blog). I thought that I would be able to bring some fresh perspective and wit to banal questions like 'How to Become a Speaker', 'How to Write a Book' or 'How to Read a Book'. But what I instead got were The Big Questions. These were all fascinating—but left me with more questions (curiosity/doubt). And so would begin an email back and forth. I'd make vague promises to then 'give it some thought'—which would then turn into a well of anxiety throbbing away in some part of my mind. I then began to not really like the whole farce because of the implied verticality ("hoho look at me, I am an expert, Ask Me Anything and I will use this as content on my website so that others can also know and appreciate how clever I am"). Okay well there's always going to be a bit of that, but what I like about Letter is that it is a mutual meeting of minds in neutral territory. It's not just "come onto my podcast and let's pretend to have a deep conversation" (an act I enjoy) but rather; something else.
Or is it? Hoho: I don't know. It's fun anyway.
So, perhaps you'd like to write a letter to me?
If so, I would be honoured » find me here.
Btw: I am not fishing for appreciation (though it's always appreciated). But if you have a question that loosely pertains to quest leadership, metamodern philosophy, character development, noöspheric orienteering, druidic sensibility, bardic savvy, infinite tricksterism, or similar such—I'd love to engage in a mini-letter exchange with you.
If this gets no bites I shall simply shrug and carry on. But if my roost becomes flooded with too many letters (that is: more than a small handful) I might need to Plan B this. We'll see. Anyways, I am a Wizard in a Tower with a candelabra, fresh parchment and a penchant for words. Let's!
Q: But wait: why not stick to social media? Or why not just send an email? Why does it have to be a letter?
Social media is not the place for conversations at depth in good faith. There is little room for consideration or nuance, and any perceived mis-utterance can trigger a flame war, or summon the horde of mooks in this Internet of Beefs.
Emails are no better. Most people treat the inbox as something to be processed swiftly, like a set of tasks. The more complex emails get lost or buried. Too hard; cbf. Plus: no one wants to spend more time in email—the memetic form of a letter is enduring, and so much more appealing.
Q: But why not send an actual letter, then? Why does it have to be a performance?
Because an actual letter might get lost (either in the post, or in my 'drop-zone'—a living pyramid containing my keys, wallets, sunglasses, coins, receipts, nicely designed business cards we appreciate but now don't know what to do with, a packet of poppy seeds we were once gifted, random reminder-notes, a parking fine, and more).
And it may also just be that other folk benefit from the exchange, too.
Also: having a conversation in a private-but-open manner encourages greater civility and respect. It encourages us to consider our own stance from more than just our own perspective. It also encourages a bit more effort: rather than simply firing off a quick question via email or a tweet, we put some thought into our enquiry. We question our own assumptions, and consider context, subtext, pretext and so on. And we listen to what the other person has to say, rather than just relentlessly peddle and defend our own narratives. Reflexivity is baked into the process.
Is it performative? Of course! But what isn't?

Actually, this notion of performance is an interesting one.
Authenticity is bullshīt; don't bother.
Long term subscribers (I love you all) will know that I have nursed some rather ambivalent sentiments towards social media. I have, however, since come to accept: it's not going away. And while I mourn the naïve innocence of the early days of the independent web—and while I am acutely aware of many the many socio-existential perils such platforms present and continue to engender, and while I still want for them to change—I suspect they are very much a part of the fabric of human experience now.
We're Entangled now: woe betide us.
As an Elder Millennial I am now considered 'old' by young Zoomers. And if there's one thing for sure: the future belongs to the youth. Ergo: it is best we pay attention to what is emerging, lest we turn all cantankerous, defensive and backward.*
* Interesting aside: Eric Weinstein's podcast—The Portal—has entered an exciting new new phase (as discussed in this recent episode). In this, Eric talks of the stagnation we seem to be caught within. Part of this is due to the fact that the average birth year of a CEO hasn't budged in the past 15 years.

And yes, of course, there are myriad exceptions to this meta-pattern (this is mainly a critique of the 'Entitled'). And yet still, it seems as though we are trapped in a pantomime wherein we need to dance to the tune of an increasingly outdated boomer ideology. Letting go of power is hard; I get it. Eric explains this it better than I (and with sensitivity and warmth—this is not a blanket ageist thing; listen to the podcast). But also, Eric discusses the phenomena that he calls the Distributed Idea Suppression Complex ('DISC'). From my own years in academia, I can see how this is very much a thing. Synthesising this notion with books like 'Winners Take All' (and other perspectives) paints a rather stark picture of the situation we are in now. These are very, very odd times. In my profession, it means I must cloak/smuggle/trojan-horse new philosophies into organisations. Hiding them in plain sight. I wish I could be bolder—but that would limit the efficacy of the Role I play. For now.
So: authenticity. For you and I and most everyone older than us, we have had to think about 'how we show up' online. But Zoomers are now So Very Online that there's no point trying to 'be authentic'. Rather; they just are.
And so thus the paradoxical wisdom here is: to be authentic—don't bother.
Don't even try: you'll overthink it, and your authenticity will become inauthentic.
But ah: perhaps this sentiment is a little too crude? As ever, there's more to it.
Coming from the land of Motivational Speakers—where I lived for a while as a rogue-academic-imposter amidst sermoning paladins—I am mighty suspicious of the phrase 'true authentic self' (which is usually paired with 'reach your full potential'). The issue, to me, comes with the fixation on a singular 'essential/eternal/enduring' 'authentic-true-self'. Something to constantly compare and contrast our lived experience against, much to our detriment.*
* Something I warn against in the 'Ritual of Becoming'.
There's wayyy more to this, of course. But I'm trying to keep these museletters short, would you believe. So, in a nutshell, here's a stance that seems to be working for me (for now):—
Roleplaying Lyf
[It is perhaps useful to believe] We all have a Role to play, in whatever chapter we find ourselves in. Or rather: roles.
The Choose One Word 'Ritual of Becoming' could be considered a self-development programme of post-authentic sensibilities. If we are 'authentic' to anything, it is to the Mythic Roles we sense we need to play: parent, partner, friend, teacher, poet, wizard, alchemist, apprentice, builder, chef, journalist, healer, fool, barista, druid, accountant, performer, tinker, savant (and so on). This is thus a fluid and ongoing dynamic of constructing new Masks for whatever chapter we find ourselves in (and whatever 'life' seems to call us to or throw our way). We then embody these Masks and, in time, Assimilate them into our Patterns of Behaviour. This, in turn, manifests as new Aspects of our 'Character'—an ever-expansive repertoire of distinct qualities, situationally embraced.
And all of this helps us to find 'coherence', 'P u R p O s E', 'meaning' and 'mattering' in life, as we are better able to orient ourselves towards 'the realisation of relevance'.*
* In How to Lead a Quest I describe 'meaningful progress' (as distinct from 'the delusion of progress') as "that which brings us closer to future relevance". But I think I like Professor John Vervaeke's phrasing of 'relevance realisation' slightly better (as from his fab lecture series: Awakening from the Meaning Crisis).
Too much to say in one museletter. I'll sign off after the following pell-mell:
Enterprise leaders and leadership teams could benefit immensely from working within a Mythic-Mode (hybridising this with more recognisably practical sensibilities, of course). This is something that inevitably works its way into some of the leadership off-sites I provide, though I'd love to work with a team willing to flex into an alternative to the standard 'Vision', 'Mission', 'Values', 'Behaviours' colour-by-numbers template-approach to word-smithing something box-tickingly safe and forgettable. I don't think folks can afford that indulgence anymore. Time to roll up our sleeves and venture open armed, into the storm.

Our Choose One Word 'Ritual of Becoming' has so far raised $2,950 for wildlife rescue, First Nations people and ecosystem conservation in the wake of the (still) devastating climate-change exacerbated Australian bushfires. Some leaders are encouraging their teams to do this (so as to have a better understanding of what 'meaningful progress' really looks like for each person). I also wrote my first little letter to participants, and am elated to see /word pages like The Year of The Zen Archer, The Year of The Diver and The Year of The Hearth emerge. Enrolments are tapering, which is to be expected—but perhaps you might like to give it a little boost?
Related reads
After Authenticity | (I am new to the thinking of Toby Shorin, but I'm digging much of it) "What is authenticity? Of course there's no such thing, but that hasn't stopped anyone from believing in it. Nearly 80 years of anthropology research on authenticity-seeking behavior reveal authenticity to be one of the stickiest modern superstitions. The bulk of the early research is about tourism, an activity frequently motivated by a search for this mythical quality."
The Disbeliever's Guide to Authenticity | (A followup to the above) "Finally we have enough distance from the authenticity paradigm to see its politics, commitments, and ethics more clearly. But now that we know its implications, we have to decide whether we believe in it or not. There are many ways to relate to the world. Choose wisely."
Being Your Selves: Identity R&D on alt Twitter | (I'm loving much of Aaron Z Lewis's writing btw) "Digital masks broaden your range of expression beyond what's possible with your physical body. With a mask, you can reveal parts of yourself that would otherwise remain hidden on the inside. Your alt account brings these hidden selves to the surface and allows other people to interact with them—even in the so-called offline world. When you talk to a formerly pseudonymous friend face-to-face, you remember how they present themselves online and you feel like you have access to another layer of their psyche. It's like a Snapchat filter for your social life."
Personal Brands, Identity and Perception Management | (This is Rust-Age Ribbonfarm; still holds true) "You begin to realize that you are your manifest presence in the real, physical world. That your I only exists because everything else does. And then it hits you: that sitcom-joke of a path to 'authenticity' that you thought you'd ironically abandoned in Step 5, is what you've been continuing on all along. And inquiry can begin."

That's all for now! I feel the need to do some sort of plug for a semi-relatable offering that you and I can smuggle into Enterprise Land, so as to Robin Hood some coin to transmute into Time to Write More Esoterica like this. So…
If you are part of a clever team that has outgrown conventional myths pertaining to Leadership and Motivation at work—if you want to work far more effectively together, at depth, through the myriad complexities and ambiguities of Transformation and Change—perhaps you'd like to join my many happy clients? If so, let's explore.
Alternatively: join The Mythical Coterie of The Fox by becoming a supporter-subscriber.
Authentically yours,
jf