A stupid (nay: sensible!) stance on Covid-19 ƪ(˘⌣˘)ʃ
A lukewarm hot-take; tentatively offered.
Huzzah: this is The Museletter by Dr Fox. Did someone forward this to you? How lovely! You can join the many readers who receive these fortnightly-ish epistles. Just jot your email below and I'll ask one of The Unkindness (a flock of 11k+ ravens) to deliver future musings to you.

Ahoy dear fellow mages and rogues. 
Recently I shared with the Coterie some rather practical insight on 'How to be Easy to Refer (but not too easy!) in the Humble Organic Network of Rogues'. This private podcast & post had me explore notions of honour, artistry, asymmetry, antifragility, networks, agency, friendship, fairness and fan-hood (among other things).
Today I think it rather apt to be talking of Covid-19 
I don't think I've ever done a 'hot-take' before. But—given that I am no expert*—I am thus fantastically qualified to do so. 
* Though I did teach a unit in Communicable Diseases for a few years, back in the day, somehow.
So: over the weekend Australia went a bit nuts, with some folk stock-piling toilet paper, of all things. In some instances, fights occurred and supermarkets needed to issue a limit to the number of packets folks could purchase. I find myself personally baffled and amused at this; though it hints at the kinds stupidity accessible to anyone of us if the right alchemy of perverse conditions exist.*
* This might be: misinformation combined with ignorance and prejudice sprouted by mainstream and social media combined with a pervasive sense of individualism and entitlement coupled with insecurity and fear to the backdrop of chronically low psychological state—all preyed upon and perpetuated by rampant capitalism. Stupidity is therefore not simply an emergent phenomena but also: a cultivated one.
It got me thinking of a quadrant model. Yes: I know! I haven't thought up a thing like this in years.* I thought I had outgrown them but here we are. Some folks respond to crises with direct and immediately useful action. Me? With interesting but only vaguely relevant thoughts.
* Not true.
An aside: I recently came to realise that the meaning I attach to the word 'crisis' has a different 'feeling-tone' to how others relate to it. When I say: 'oh I here I am again in the midst of a mini "existential crisis"' or 'yes, I do believe the phrasing "climate crisis" is apt' I don't mean it's time to panic or indulge in hysteria. A crisis—to me—simply means 'a time when difficult and/or important decisions must be made'. 
Panic does not assist us in making good choices 
And with earnest respect to dear Pan (son of Hermes: the trickster patron god of rogues like you and I), a 'time of crisis' calls for a kind of clear-headedness.*
* Thus if you find yourself in a labyrinth—particularly a shifting one—a certain sensibility must be maintained; lest we lose ourselves. Also: maybe my metaphors are too cerebral? I am trying to angle towards a more 'embodied intelligence' here but words fail me, for now.
If a crisis manifests in a complex domain (as all crises tend to), then we especially need to be sure that we don't leap to hasty choices. In almost all scenarios we will not have the full picture—and the default steps we'd usually take may well be the very things that got us into the mess to start with.* 
* Zhen Goh from Cognitive-Edge puts it better than I do: "In complexity, we have to avoid premature convergence and also refuse the temptation of overly simplistic categories or explanations. Contradictions and paradoxes are part and parcel of working in complex adaptive environments."
And yet: difficult and important decisions must be made.
Do you quit the job? Do you cancel the event? Do you divest from those bad actors? These are the kinds of decisions one must make as we face into different crises.
Choosing to not choose is still a choice
And procrastination may cost you. The degree to which it costs you depends upon how antifragile you are; the level of optionality you have maintained. For a Master Procrastinator™️ such as I—who does their best to maintain a trickster-like commitment to antifragility*—the cost is far less than the cost of going 'all in' on the wrong idea. 
* Not sure what I mean? Here's some vintage Buster.
For a larger enterprise, this is trickier: hence why the precautionary principle* ought kick in. This is one of the first lessons one learns about any living complex systems, and its certainly a factor at play with our dear Covid-19. I've already had several large international events cancelled or postponed as a precaution—and now that SxSW has cancelled I expect many more will follow.
* Heroic interventions derived from limited knowledge can prove harmful or disastrous in complex contexts where knowledge is lacking. 
It'll be a turbulent time for many event organisers, no doubt. A turbulent time for us all, potentially. But it needn't be a terrible time—if we are sensible about it.
From whence do we make our decisions?
So: back to this 2x2 I mused up. I'm not too wedded to this, and I don't expect it to remain particularly stable under scrutiny. (Few models can). But I trust it might serve as a useful orientation-heuristic.
The question is: from whence are you making our decisions? Or, more aptly: what is your crisis-disposition? (Actually that is hardly more apt; I don't know what to call it. A stupid model? That works. See Fig 01 below.)
---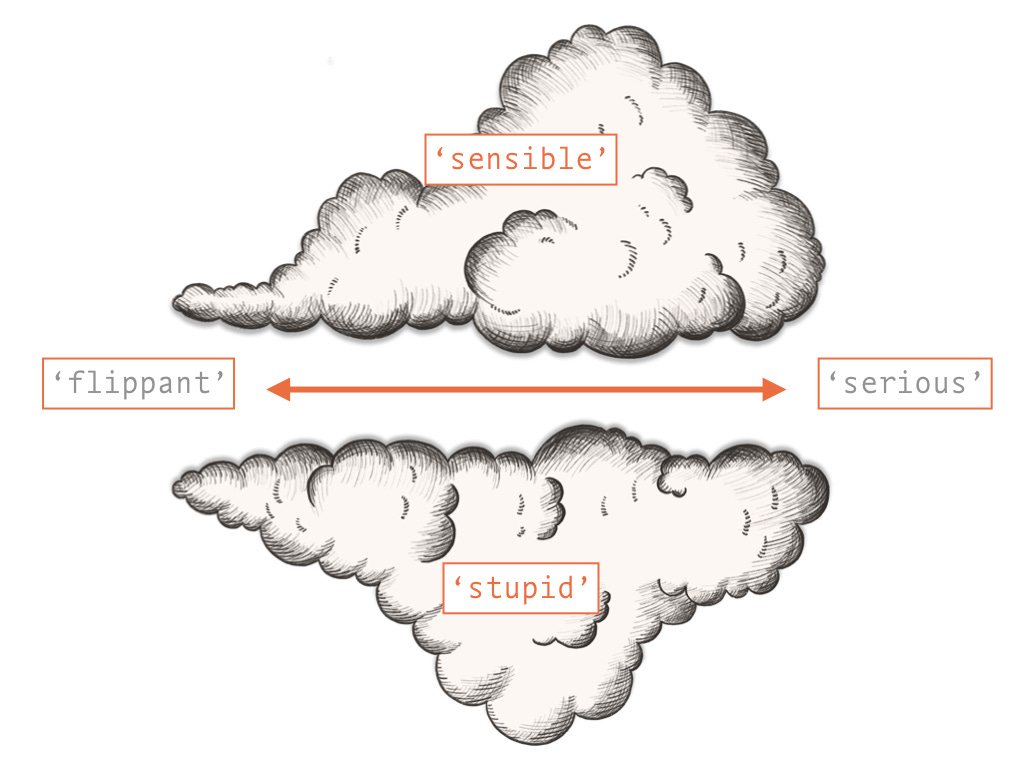 Figure 01: A Stupid Model.
---
Let me walk you through it. On one spectrum we have a spectrum of flippant through to serious. And then, cloud-like, we have sensible floating above and stupid lying below.
Serious
To be 'serious' is to treat the situation with a kind of earnest and solemn heaviness. This approach is appropriate at a time when people are hurting and dying, though it can lead us down a very formal path: to press for a specific conclusion (as James Carse would put it). This sees us take any and all precautions deemed necessary. One could consider that this disposition might have us strive towards a singular robust 'solution'. To do 'the right thing'—no matter the cost.
Flippant
To be flippant, on the other hand, is to deny the grave seriousness of the matter altogether. Que sera, sera, Whatever will be, will be, The future's not ours to see, Que sera, sera, What will be, will be. And so on.
The relative levity of this disposition could be considered as a lighthearted expression of 'choosing to not choose'. To let Destiny/Fate/Fortuna choose for you. This frees up energy that might otherwise be invested in the serious striving to enact 'the right decision'—but is naturally fragile to unforeseen stressors. 
Sensible
To have a 'sensibility' is to be attuned to the context within which you operate, in a manner that allows you to acutely perceive subtle shifts and changes, so that you may respond appropriately. This couples nicely with antifragility (maximum upside + minimum downside; optionality) and allows for tentative decisions to be made in a complex dynamic context abound with unknown unknowns.
In many ways, sensibility is the paradoxical superposition between flippancy and seriousness (an oscillation that brings the best of both stances, as and when needed).
For example, any good facilitator knows that there's a playful disposition that must be maintained in any complex endeavour. A sensibility, if you will, that allows us to stay in tension and paradox whilst being open to possibility. Thus for a strategic offsite, say, a deft facilitator can abandon any agenda if it is getting the way of emergence—whilst also knowing they can rally back to a contextual intent should the group get lost. We aren't ever over-invested in any particular initiative or 'plan' (for how could we know what will emerge?)—but we have options, nonetheless.
Thus when we are being sensible all structures, policies or plans are considered optional—ways of seeing we might entertain and strategic initiatives we might deploy, pending the conditions that manifest. In this way we are neither locked into a heavy, serious, singular path nor flippantly ignoring what could be a calamity. 
For an introduction to this disposition—the cultivation of optionality beyond default decision making—jump into How to Lead a Quest.* But for a deeper dive into the meta-rational sensibilities behind all of this, no one does it better than David Chapman at meaningness.com
* The astute among you might notice similarities between the sensibility model of this musing and the sensibilities that guide quest-augmented strategy.
Stupid
If sensibility is to adopt the best of flippancy and seriousness—stupidity is to adopt the worst of both. 
To be mildly stupid is to spend time in a potential crisis writing a poor and shoddy analysis of the situation in an all-to-subtle attempt to encourage more sensibility in the world. But to be really stupid would mean getting serious and heavy and fixated on all the wrong things (like stockpiling toilet paper) whilst being callous and flippant about things that matter (like cultivating a sense of community). 
In a time of crisis we need to look after each other.
I still don't quite understand the toilet paper thing, but if you've stockpiled medication and masks: you aren't doing anyone any favours. If anything, you've just made it more likely that you will become infected, as the people who need the medication won't get it, and the people who might be showing symptoms won't be able to mask themselves.*
* Yes: I am simplifying things again, so as to make the message more salient. The real calamity will not come from the virus directly, per se—but from all the indirect effects it'll stir up. We have seen all sorts of nasty-stupid surface in Australia. It doesn't take much to stir up the latent racism of our confused country, for example. But! If we are sensible about it, this crisis could be the catalyst for new ways of working together.
Hoho: I doubt any such folk have subscribed to my humble museletter, so what am I saying? To be stupid is to fixate on the finite game—to see yourself as an island: seperate and somehow not connected to the wider world within which we live in. To try to 'win'—even if it means others will lose (or suffer for it).
Where are you placed?
Few folk would willingly identify as operating from a place of stupidity—we all have our narrative rationalisations and whatnot. It's those other people, right?
And yet: it's probably prudent to know that we all act and behave in stupid ways. It's just that we don't realise it until later (and then: only if we have the capacity to reflect).
Thus it makes sense to be neither flippant nor serious—but to be both and neither. To maintain a disposition of sensibility in this time of crisis. To resist collapsing possibility prematurely and stay in the tension—betwixt action and not—so that a clearer path might emerge. To keep your wits about you, neither oblivious nor grave.
To be, earnestly, playfully, sensible.
So, long story short: I have no particular hot-take on Covid-19, other than to be prudent, be kind, wash your hands and look out for each other. Do the things you'd hope others would do. Have a bit more empathy for the folks that might be hurting in these times. And consider: could this be the catalyst for better ways?
It's certainly something I'm thinking about.
In the wake of all the event closures, some of us will try do 'online events' (which the introvert in me is fascinated to see how this world could be developed further) we also know that nothing quite beats gathering in person. At least: in the mythic sense.
Events have become so conventional anyway—simply a mix of content dense presentations spiked with the occasional charismatic 'thought leader' and booze. Maybe this pattern disrupt will help us realise: there are better ways to exchange information and sentiment. Maybe this epic work-at-home experiment will have people using collaboration tools better.
And then, in time, after a long hiatus of 'no events', people will be left wanting—searching for some sort of ineffable something. Something only accessible at real-life events. The reason we gather.
And so thus then events might re-emerge as means for genuine connection, community and belongingness, wherein we gather diverse embodied minds so as to sense into the wicked challenges that vex us (with the spirit of emergence). Maybe! At the least, if the world gets better at remote collaboration, events allow us to hang together in real life. That'd be nice.
But this is just one facet of a much broader challenge. We are in the midst of a wickedly complex multidimensional crisis—climate change, systemic inequality, meaning itself (and more). Some intelligent folk (myself included) are—how to put this?—concerned about the collapse of society itself. And yet also: quietly optimistic that a way through this mess might emerge.*
* At least, that's the narrative we choose to adopt.
Here are some things worth paying attention to.
The Listening Society and Nordic Ideology – you've heard me bang on these books by Hanzi Frienacht in pretty much every museletter. And they remain very apt today. If you can survive the wondrous psychoactive writing of The Listening Society, then Nordic Ideology will offer you a clear 'path' towards a metamodern society. A pipe dream maybe—but better than any other alternative to strive for.

The Jim Rutt Show – plenty of good listening here for those with an affinity for complexity. Initially I couldn't stand Jim's accent—but now I kinda love it. The way he calls bullsh–t (or rather: horsesh–t) on his interviewees (and the way he says it, hoho)—it is done in the spirit of a playful dialectic. Even the theme music is so corny as to be good. Somehow, it works. Good episodes to listen to include: Daniel Schmachtenberger and the Evolution of Technology (way to feel the existential crisis of the human project, whew), Dave Snowden on Systems Thinking (see note below*), Bonitta Roy on Process Thinking and Complexity (wondrous highfalutin academic sparring and exploration), and Hanzi Frienacht on Metamodernism (naturally). Jim Rutt is also active in the space of 'Game B'—an alternative path towards a civilisation-level social operating system. There's a lot of sensibility to this approach.

Brent Cooper has created an 'idea series' titled The Rise of The Emergentsia. I like it because it maps a few of the emerging thinkers/practitioners in this space, and does incredibly well to articulate the ineffable emergent.
* In a beautiful segment on the importance of ethics and aesthetics in technology, Dave observed that the Silicon Valley culture so many folks love and admire seem to be made of armies of autistics led by psychopaths. (Of course, you need to hear this in context—but these are the dark joys one gets when going deep in a podcast). Eric Weinstein's The Portal series regularly delivers similar gold.

Anyhoo, there is plenty to listen to and read. Way too much for any one of to make sense of individually.
And so we turn to community and collective sense-making. And then, so-armed with some sort of 'sense'—a protosynthesis at best—we act in The Ways We Deem Most Sensible. We pursue enjoyable usefulness in the Quest for relevance realisation, dynamically updating what is salient to us (via the path of least unnecessary suffering; to the best our minds can intuit).
Or something like that.
jf
(Hey thank you for joining me once again! A joy, as ever. If you find yourself in voluntary quarantine, my Choose One Word 'Ritual of Becoming' could be wondrous for you.)