2 wizards, 5 questions (+ a gin or three)
A museletter wherein I herald the virtues of Michael Bungay Stanier's phenomenal new book: 'The Advice Trap'. We also recorded a fab new podcast series for you.
Hello, Dr Fox here. Did someone forward this to you? So nice. You can sign up to The Museletter (for free)—or become a supporter-subscriber and join The Coterie for more.
---
What-ho and hello friends,
You know those works of art that look like a disconnected and incoherent mess—but when you walk around and your perspective shifts a coherent form emerges and suddenly, somehow, it makes 'sense'?* I feel like I am close to that now, and I am (tentatively, yet) positively elated. Or well: elated is not quite the word but it's something approaching that.
* This is anamorphosis.
I want this feeling for you, too (if you don't already have it).
---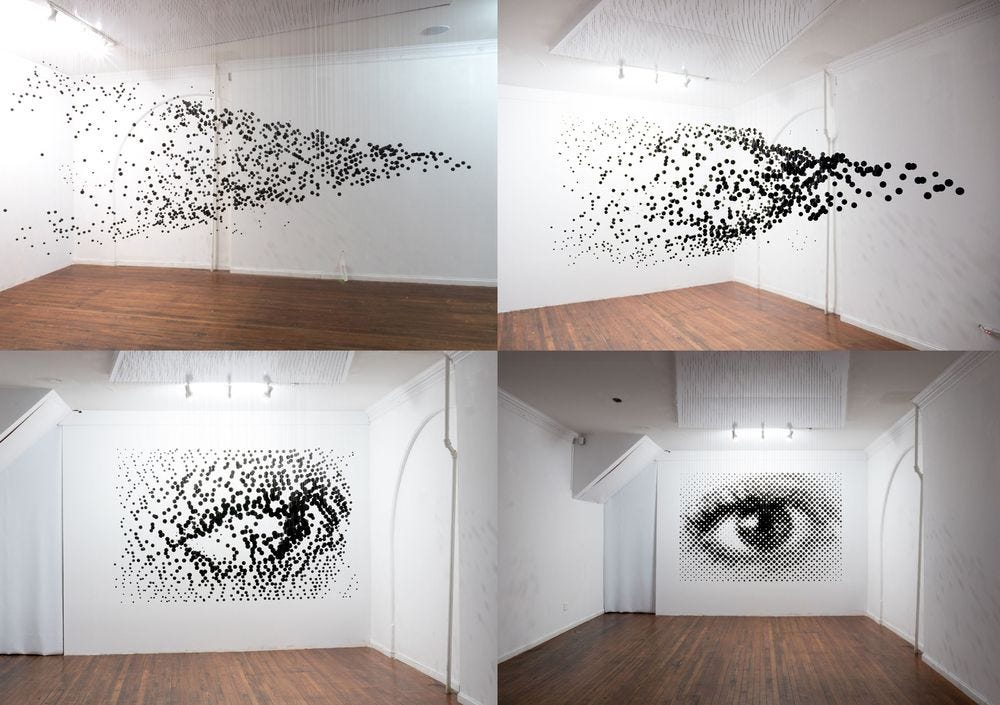 Anamorphic Sculpture by Michael Murphy
---
This question of 'coherence'* is of course a key feature of the Choose One Word (Ritual of Becoming)—a programme of 75 thoughtful video provocations designed to evoke the kind of 'emergent coherence' that can only be borne of deep introspection and reflection.°
* Coherence is the state in which things 'make sense'. Congruence is also related to this—something might 'make sense' intellectually—but it will also 'feel right' if it is congruent.
° 'Immersion' in a context conducive to generative ambiguity.
Anyhoo, I share this with you because my own recent personal epiphany is the result of many kind and patient friends and colleagues who know how and when to not give advice. This seems antithetical and nearly nonsensical—why not benefit from someone else's expertise?
If a machine breaks down—or if a highly ordered/contained system stops working—sure: advice can be helpful ('have you tried turning it off and on again?'). But if a person/identity/ontology/narrative ceases to work so well, advice-giving—without curiosity—can be less than useless.
One, of course, learns to 're-interpret' the advice offered by well-intended folk as a kind of perspectival provocation—a new vector to see things from, perhaps. Or a way to probe one's own understanding. But oh (!) how much more efficacious things would be if our friends and colleagues were better able to stay in curiosity—amidst the tension, paradox and doubt—just a little bit longer?
Behold...
My good friend Michael Bungay Stanier has new book that is just days away from being released. It's called The Advice Trap: Be Humble, Stay Curious & Change the Way You Lead Forever and it's really, really good. It's the kind of book I wish for everyone in the world to read (myself included—and I have, and I love it).
You know I have a thing for creating a world more curious and kind, right? And that this kind of directionality may just allow us to coordinate at higher levels of complexity.*
* Which, in turn, may just steer us away from societal collapse or mass extinction for a few more decades. That's nice!
I thus find myself heartily endorsing and recommending Michael's new book. Get yourself and a friend and a colleague and your boss a copy today at theadvicetrap.com and you'll unlock a bunch of pre-order goodies. I've personally contributed a special secret video to this treasure trove.
But more so: this is a really important message/skill-set/ethos the world needs right now. I want this kind of thing—the deft application of curiosity paired with epistemological humility and the ability to stay in ambiguity and the tensions inherent to complexity just a little bit longer—to be adopted by more folk all over the world.
There's also a part of me that loves how this warm-hearted, accessible and incredibly practical book is deeply subversive. I probably shouldn't point this out so much but I see this book as very much being the gateway to the Forbidden Questions in Enterprise Land. The types of questions that have people begin to care about caring about values, ethics, P u R p O s E, society, meaning, mattering, coherence, congruence, contribution and so on. The kind of thing that makes The Gatekeepers more susceptible to the Wizardly magics of Dr Fox (and other infinite players).
Genuinely, I can't help but feel that it is past time for a changing in the guard—and a shift in the underpinning leadership philosophies that drive how decisions are made (and how power and status are distributed). But, rather that this be a pitched battle of fire and brimstone, perhaps—with curiosity, kindness, and the deft savvy to avoid The Advice Trap—we may just find a better way to transition into new ways of working.
Perhaps. In any event: this is a really good book. And if you really want to support this kind of book, purchasing a copy within the launch week is really, really helpful.

5 Questions with MBS & DJF
So, Michael was in the antipodean realms in early December last year. We caught up for pizza and negroni, several gins and some whisky. Somewhere amongst it one of us had the Fool Idea to record a mini-podcast series—and so we did!
Together we explored one of our favourite, evergreen topics: Questions.
What follows is a tipsy-tour of 5 of our favourites.
Here's a photo of the moment where the sun blasted through my window. This is probably the worst thing that can happen to a daywalker like me. It was literally blinding, and definitely affected my wit and cognition in one of the episodes. Not the gin I swear.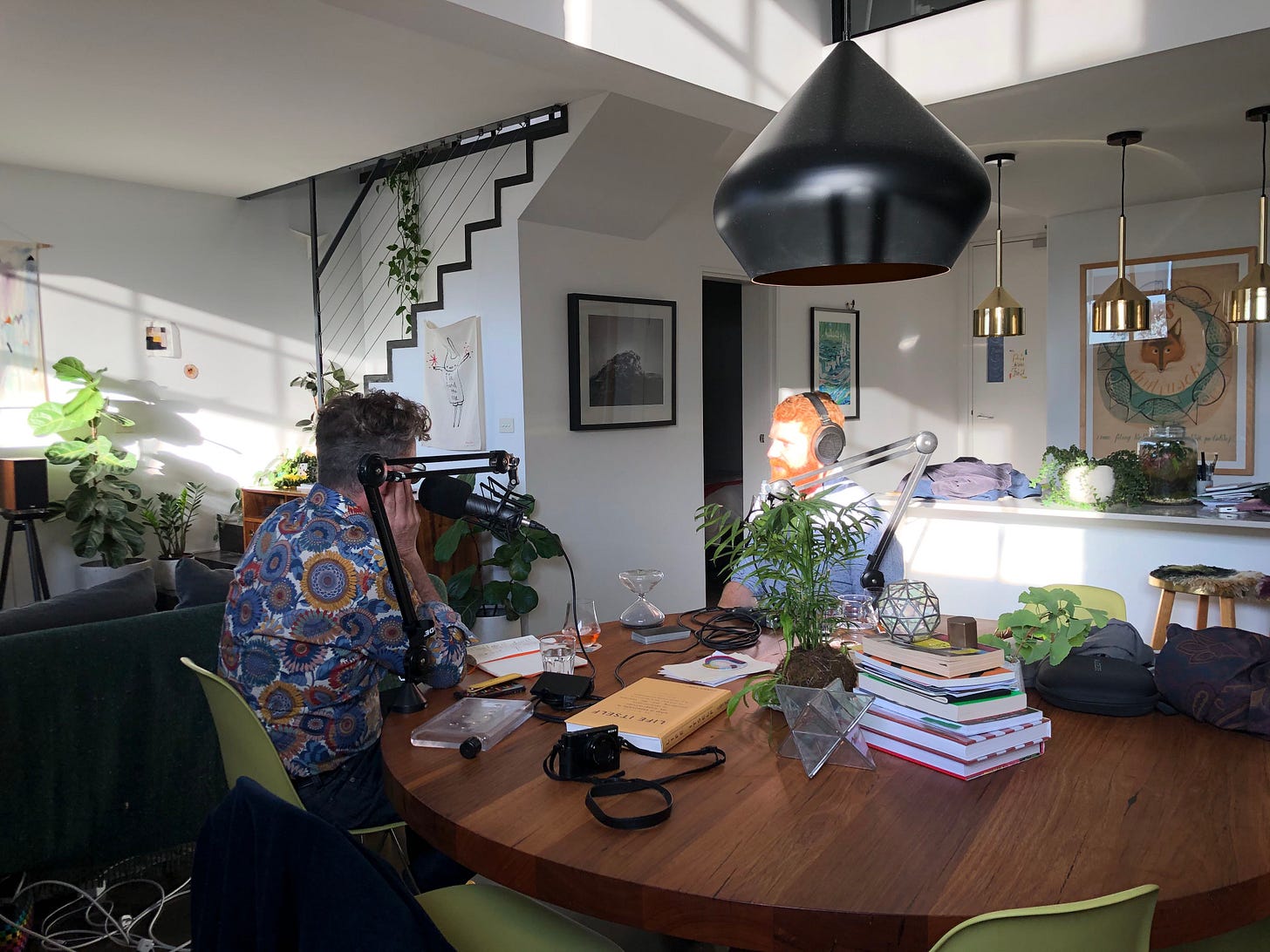 We were going to launch this as its own standalone podcast, but since decided to each share it with our own collegiate-kin. Thus so; come eavesdrop on this exquisite conversation between two wizard-fools. You can jump in at any episode—but listening sequentially might be best.
Question 1
This episode contains some updates, context and preamble from me,* followed by an introduction from Michael and myself, followed by the episode proper—why we love this question, and why you might, too.
» Have a listen on iTunes, Spotify or simplecast.
* It's been a while since I launched a podcast, and there's a bit to update you on. Very much worth listening to, though, as this contains my current favourite question.
Question 2
Michael shares one of his favourite questions with me. It's the kind of question that calls one to content with clarity, and thus—as the Arch-Wizard of Ambiguity—I found it particularly vexing/useful/apt.
» Have a listen on iTunes, Spotify or simplecast.
Question 3
This one takes us into some dark territory, to which these courageous wizard-fools shy not. Together, we venture into The Abyss—and somehow surface to tell the tale.
» Have a listen on iTunes, Spotify or simplecast.
Question 4
A sneaky snifter and then we are back on the up. In this episode we grapple with the question that both inspires, guides and plagues my life. Probably one of the most important questions anyone can ask.
» Have a listen on iTunes, Spotify or simplecast.
Question 5
Our '5 Questions with MBS & DJF' concludes with the most difficult question for either of us to answer. It might be a difficult question for you, too. In any event; it's a fun one to come to terms with.
» Have a listen on iTunes, Spotify or simplecast.

Whew. That was fab. Buy Michael's new book. (I'm not getting paid for this: I just love it and think this stuff is important).
---
In other news: I have received a lovely reply letter from Bruce on the topic of noöspheric orienteering and public sensemaking, as well as an as yet unanswered letter from Alchemist Ken (a wondrous fellow member of the coterie).
Right now I am coming to see the benefits of missing out on things. Yes, I know I talked of FOOMO earlier, but I have also come to feel as though I am spread a little too thin across too many platforms, activities and commitments. 'Fewer things, done well'* is so much better than my current modus of 'few things done well'. Thus if anyone does write me a letter—I suspect I may be mighty slow to reply. At least, until I sort out the latest newfound kink in this perennial search for coherence.
* This was one of my key Principles in The Year of The Gentleman-Pirate, masked within the phrase: 'Quality in all things.' Four years later, I find myself oscillating back to notions of consolidation in The Year of The Bard.°
° Speaking of Words, Christin Chong has recently shared their /word page for their Year of the Hearth. I love it. I can't help but feel a few others have cropped up, which I may have missed (let me know!).
In yet other news: I'm working on my new 'Services Guidebook'. I made a big 97-page one years ago (too big), and then a small 12-page one a couple of years ago (too small). My current thinking is (wait for it): medium sized.
The point of this document is of course to help equip you with the tools to smuggle me into your citadel so that we can work our magics together. And so thus I need to once again do the dance where my keynotes, masterclasses and leadership development programmes are made appealing, efficacious and innocuous-seeming enough to the Metric-Obsessed Overlords in Enterprise Land… whilst also covert-signalling to The Knowing, Savvy and Wise that, yes, the world of work is complex and that this calls for a different (but not altogether uncomplimentary) set of sensibilities, as you and I know.
Sensibilities coherent and congruent to the emergent complexities of our hyperconnected postindustrial world. 'Quest leadership', if you will.
Anyhoo, that's what's coming up. I'm also thinking of creating a category for 'experimental keynotes/provocations' as a way of liberating me from the incredibly refined and efficacious material people love and know me for. These would be at a less 'premium' rate, and would allow me to take more risks whilst also flexing into more esoteric/emergent domains (whilst also serving folks who might otherwise not be able to so easily afford me). Email Kim if this interests you (kim@drjasonfox.com) and we'll see if we can make something work.

Thank you so much for joining me once again. Share this with a likewise curious friend if it resonates, or join The Coterie of The Fox for more.
jf